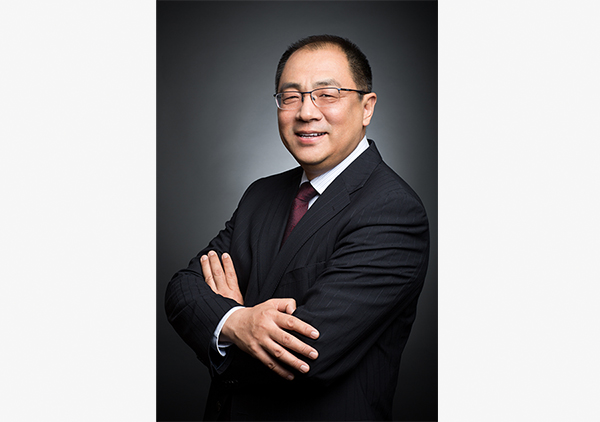 Frank Meng, chairman of Qualcomm China. [Photo provided to China Daily]
Frank Meng wants to ensure Qualcomm China seizes 'opportunities that do not even exist today'
If seven out of ten smartphones sold worldwide last year were assembled in China, much credit for that should probably go to the China arm of US chipmaker Qualcomm. Thanks to its famed processors such as the Snapdragon, Qualcomm emerged as the world's biggest chip supplier to smartphone companies.
But Frank Meng, 56 years old, the soft-spoken chairman of Qualcomm China, is not an executive who will rest content with past achievements. His mind is focused on things futuristic.
"I love to deal with challenges," he told reporters at the first public event after taking over as chairman of Qualcomm China in mid-2015.
And, in an exclusive chat with China Daily, Meng said Qualcomm will step up its investments in China. For, the country is entering the age of the Internet of Things, which will see billions of computers, gadgets, appliances, furniture, machines and vehicles inter-connected in real time via the Internet.
"Well, 'keep investing in China' has been a major strategy for us. Qualcomm will work with its Chinese partners to seize opportunities that do not even exist today."
By that he means making super-efficient chips for, besides the Internet of Things, servers and a new class of vehicles like drones.
Decades of experience in China's information technology industry, Meng said, helps him to instinctively sense what the next big thing could be. "New gadgets such as drones and inter-connected smart home devices are set to create exciting demand just as smartphones did a few years ago."
Meng is excited that the Chinese tech industry is ready for the new era, which will be marked by "China-centric" and "China-first" opportunities. Local innovations in consumer electronics will drive growth, said Meng.
The telecom veteran loves to compare today's market conditions with those that existed a decade back. After all, past experiences unveil tomorrow's trends, he said.
"About 30 years ago, Japan used to lead growth of camera and other consumer electronics because of its huge domestic demand. China is at a similar flashpoint now. The market cannot just wait for technology breakthroughs imported by overseas companies. Instead, local players are coming up with gigantic amount of ideas that suit Chinese customers' requirement."
In terms of innovation, Qualcomm has always been keeping pace with Chinese tech firms, Meng said. The US company's local arm set up a research and development team in China to support its Chinese customers.