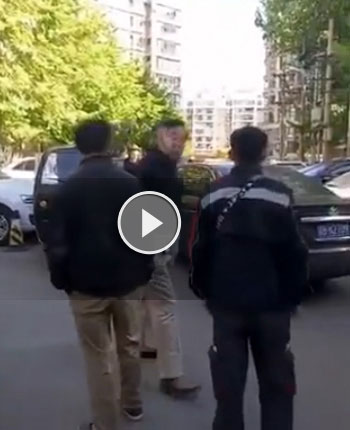 A video grab shows the man slaps the delivreyman. Click here or on the picture above to watch the video.
Beijing police have placed a 57-year-old man in 10-day administrative detention after he was identified as the driver who allegedly beat a delivery courier in the city's Dongcheng district on Sunday. The courier's electric tricycle had struck the man's car.
Video of the incident was posted to social media sites.
In the video, the driver-identified by police only by his surname, Li-is seen charging the courier and slapping his face at least six times as the car stands in the middle of the road. The courier makes no attempt to evade the attack or to hit back at the driver. Two other witnesses are shown in the video trying unsuccessfully to calm the driver down.
The video evoked widespread outrage after it was posted to Sina Weibo and WeChat Moments.
The courier, surnamed Feng, apologized and offered compensation of 400 yuan ($61.70) to the driver, China Central Television reported.
The Weibo post that first exposed the video was forwarded more than 45,000 times and received 16,000 comments.
The courier's employer, SF Express, said it reported the incident and will seek full justice for its employee.
"Given the fact that the other party hit the courier repeatedly in an extremely violent act, we have declined his request for mediation. We will press charges and demand criminal sanctions," the company said.
It added that the courier was later diagnosed with soft tissue injuries and has received medical attention. It also urged its couriers to take measures to protect themselves when faced with such threats.
The driver had shut down his cellphone service as of Monday.
Beijing Evening News quoted a relative of his as saying Li regrets his behavior deeply and is willing to cooperate with the police investigation.
The incident came after a number of violent public encounters that sparked anger on social media.
Earlier this month, a video showing a man assaulting a woman in the Beijing Wangjing 798 Yitel Hotel in the capital's Chaoyang district was also spread on social media, drawing criticism of the hotel for its lack of security and of the failure of witnesses to intervene.
China's courier service sector has seen major employment growth. More than 1.5 million people work in the industry, the head of the State Post Bureau, Ma Junsheng, said at a conference last year.
The sector is adding more than 200,000 jobs annually, he said.