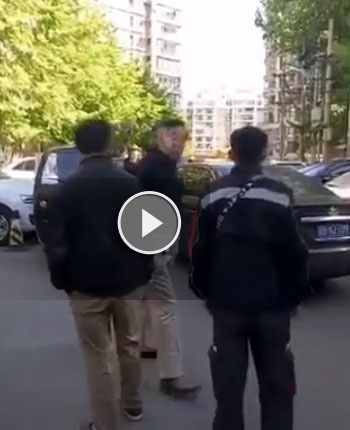 A video grab shows the man slaps the delivreyman. Click here or on the picture above to watch the video.

A middle-aged man slapping a deliveryman after a traffic accident at a residential community in Beijing has been strongly condemned by internet users after a video of the case was posted online by a witness.
In the 102–second video, the man can be seen cursing and slapping the young deliveryman wearing a uniform of courier company SF Express Group Co Ltd at least five times, even though some passersby tried to stop him.
An SF Express manager said the case happened on Sunday morning when the deliveryman went to deliver packages at Fugui Garden community in Dongcheng district of the capital, Beijing Times reported.
A car was blocking part of the road and the deliveryman asked the driver to move, the manager claimed. The driver shifted the vehicle a bit, and the deliveryman tried to pass through the space but then the driver backed up again and tricycle scratched the car.
The video posted online records only what happened after the scratch, the manager said.
Many netizens condemned the driver's rude behavior. Some said they would hunt down the driver and curse him, but many asked the deliveryman to seek legal ways to get justice.
The SF Express said on its official Weibo account, a Twitter-like service, that deliverymen work hard to send packages through wind and rain, and they need people to respect them.
Wang Wei, president of SF Express, said on his WeChat account, a messaging service, that he backs investigation into the case.
Beijing police published a message on its official Weibo account to seek for clues of the case around 9 pm on Sunday, and sent another message around 11 pm that local police officers were investigating the case.
Around 10 pm, the manager of the delivery company told Beijing Times that the deliveryman was diagnosed of soft tissue contusions in hospital. Police officers met him and the driver was taken to a local police station to get his side of the story, he said.