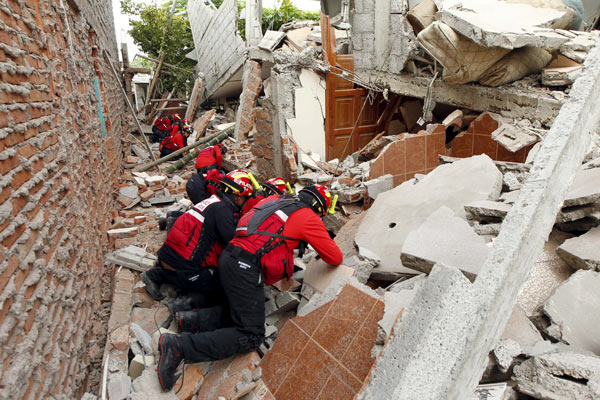 Firemen work after an earthquake struck off Ecuador's Pacific coast, at Tarqui neighborhood in Manta, April 17, 2016. [Photo/Agencies]
PEDERNALES, Ecuador - The death toll from Ecuador's biggest earthquake in decades soared to 262 on Sunday as survivors cobbled together makeshift coffins to bury loved ones, lined up for water and sought shelter beside the rubble of their shattered homes.
The 7.8 magnitude quake struck off the Pacific coast on Saturday and was felt around the Andean nation of 16 million people, causing panic as far away as the highland capital Quito and destroying buildings, bridges and roads.
Ecuador's President Rafael Correa rushed home from a trip to Italy to supervise the emergency. "The immediate priority is to rescue people in the rubble," he said on Twitter.
"Everything can be rebuilt but lives cannot be recovered and that's what hurts the most," Correa told state radio.
The government said 262 people were killed and up to 2,500 injured, according to the latest tallies on Sunday evening.
Coastal areas nearest the epicenter were hit hardest, especially Pedernales, a rustic tourist spot with beaches and palm trees now laden with debris from pastel-colored houses.
Dazed residents recounted a violent shake, followed by a sudden collapse of buildings that trapped people in wreckage.
"You could hear people screaming from the rubble," Agustin Robles said as he waited in a line of 40 people for water outside a stadium in Pedernales. "There was a pharmacy where people were stuck and we couldn't do anything."
Authorities said there were more than 160 aftershocks, mainly in the Pedernales area. A state of emergency was declared in six provinces.
The quake has piled pain on the economy of OPEC's smallest member, already reeling from low oil prices, with economic growth this year projected at near-zero.