Relationship-building between China and the US should be carried out in practical, down-to-earth terms by people who cherish the idea that healthy and strong US-China collaboration across all sectors will benefit not only the world's two biggest economies, but the whole world.
Happily, visionary political and business leaders are joining hands and advocating for more and better exchanges and communications between China and the US, even amid US politicians' election-year China bashing and highly publicized worries over China's economic slowdown.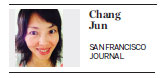 China's top diplomat in San Francisco - Consul General Luo Linquan - on April 5 hosted some 30 senior executives from leading American corporations, Chamber of Commerce leaders and elected officials at his residence. Luo expressed his sincere hopes that all parties and individuals involved would work together to deepen bilateral economic and trade ties.
"A prosperous and strong US-China relationship participated in by American and Chinese companies will help build a new model of major country relations between the world's two largest economies," Luo said.
Guests included San Francisco Mayor Ed Lee; president of Bay Area Council Jim Wunderman; Gary Dickerson, CEO of Applied Materials; Ken Wilcox, president of Silicon Valley Bank; Alan Siqueira, executive vice-president of Wells Fargo; Andy Sherman, executive vice-president of Dolby; and Ed Baker, vice-president of Uber, among others.
Deputy Consul General Ren Faqiang said each guest was asked to complete a survey about China's economy and doing business in China.
"Through this questionnaire, we'd like to gather first-hand information about how foreigners think about China, and how we governmental organizations might help them operate more smoothly in China."
In his remarks, Luo highlighted President Xi Jinping's successful state visit to the US last September and his recent meeting with US President Barack Obama at the Nuclear Security Summit in Washington on March 31.
"The two countries have carried out effective communication on various issues. Although there are always disagreements, I believe China and the US at the same time will cooperate and go forward together," said Luo.
According to the US Department of Commerce, China became America's biggest trading partner last year with a total bilateral trade volume of $598 billion. Chinese investment in the US has grown sharply by 60 percent, reaching a total of $8.4 billion.
All five states in Luo's jurisdiction - California, Washington, Oregon, Nevada and Alaska - have been leaders in business cooperation and exchanges with China.
"Trade volume of the five states with China in 2015 was $202 billion, accounting for a third of the total China-US trade volume," said Luo, adding that Chinese investors injected $3.6 billion in the five states last year.
The two-way economic exchanges would not be possible without the cooperation mechanisms initiated by the top leaders of both countries, said Luo.
Back in 2013, Xi, during his visit to California, signed with California Governor Jerry Brown and seven Chinese provinces the Trade and Investment Cooperation Joint Working Group, the first institutional platform for promoting local economic and trade investment cooperation between China and US.
In his visit to Seattle last September, Xi also facilitated similar mechanisms between Washington state and Chinese provinces.
Through these platforms, participants in both nations can expand trade and investment cooperation, strengthen communication and trust, boost economic growth, as well as create jobs together.
Gary Dickerson, CEO of Applied Materials, said the world's largest semiconductor materials engineering solutions provider is to expand in the China market through investments and other projects with a combined value of $616 million in the next few years.
"China's pro-innovation environment for high-tech industries has given the semiconductor and display industries tremendous opportunities for companies such as Applied Materials," said Dickerson.
Contact the writer at Junechang@chinadailyusa.com.