President urges tolerance, faster work on cyber-law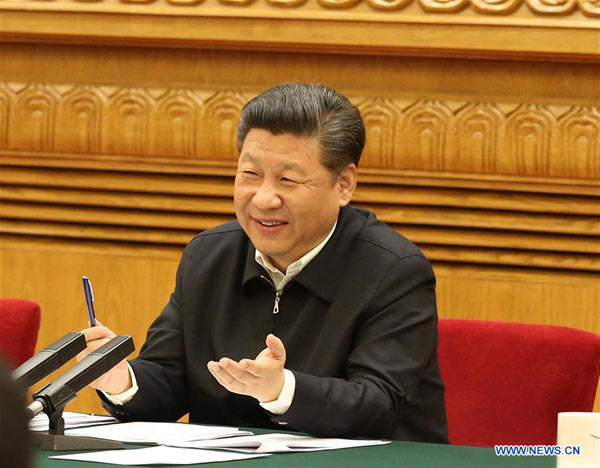 Chinese President Xi Jinping, also head of the central Internet security and informatization leading group, presides over a symposium on cyberspace security and informatization in Beijing, capital of China, April 19, 2016. [Photo/Xinhua]
President Xi Jinping called on Tuesday for "more tolerance and patience" toward netizens and welcomed online criticism, "whether mild or fierce", as long as it arises from goodwill.
Xi made the remarks at a rare high-profile meeting as the country's 700 million internet users get more say in social governance and public events.
The president also urged speeding up legislation of a cyber-law, improving legal supervision and preventing risks caused by the internet.
The government should take constructive advice from netizens, help those who are in difficulties and explain to those who don't understand the situation, Xi said. Netizens' complaints should be addressed quickly, and wrong online attitudes should be corrected.
Government officials should get close to the people through the internet, listen to online public opinions and suggestions, and answer the public's concerns in a positive manner, he said.
The meeting was attended by entrepreneurs of internet giants such as Alibaba, Tencent and Baidu, experts on media research and officials of internet management.
Premier Li Keqiang and senior publicity official Liu Yunshan, both on the seven-member Standing Committee of the Political Bureau of the CPC Central Committee, attended the meeting as deputy leaders of the central internet security and informatization leading group. The group, headed by Xi, was established in February 2014.
During the meeting, Xi talked with 10 representatives from colleges, companies and government departments and heard their suggestions on cybersecurity, core technology and public opinions.
Noting China's large number of internet users, Xi said that cyberspace should be regulated to make it a clean place for netizens, especially adolescents.