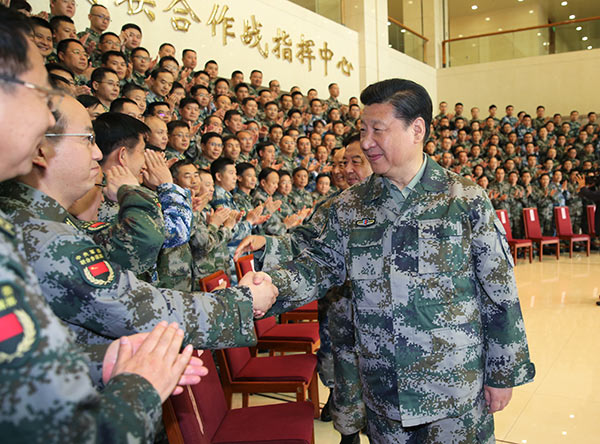 President Xi Jinping greets personnel on Wednesday at the Central Military Commission's Joint Command Headquarters, where he called on the Chinese military to continue improving its capabilities for joint command.[Photo by Zhou Chaorong/China Daily]
Officers told to study art of command and operation, build an efficient system
President Xi Jinping urged the Chinese military on Wednesday to continue to improve its joint command capability.
Xi, also chairman of the Central Military Commission, gave the instruction on an early-morning visit to the commission's Joint Command Headquarters in Beijing.
During the visit, it was announced that the president had become commander-in-chief of the CMC Joint Command Headquarters.
Xi told officers at the headquarters to concentrate on studying the art of command and operation and to build a professional and efficient joint command system.
He told them to regard their positions at the headquarters as their combat positions on the battlefield, ordering them to effectively handle any kind of contingencies and to resolutely safeguard the country's sovereignty, security and development interests.
Xi said one of the major goals of the ongoing military reform is to strengthen the capabilities of the CMC Joint Command Headquarters. He stressed that headquarters officers must have a clear sense of crisis and hone their ability for "informationized warfare".
"We will take special measures to train professionals for joint operations ... and speed up the development and deployment of advanced military technologies," he told senior commanders and officers.
Xi also told the headquarters to improve personnel grouping, streamline operational procedures and share its experience with regional joint commands.
The president wore a camouflage uniform during his visit, which was the first time a Chinese president had inspected a top military body in a combat uniform and the second time Xi had appeared in public in such a uniform.
Xi wore a camouflage uniform for the first time in January 2014 when he inspected a border defense regiment in the Inner Mongolia autonomous region.
Xu Liangcai, a senior officer at the Joint Staff Department under the People's Liberation Army Southern Theater Command, said modern warfare features a high level of joint operation and sophisticated command, requiring a joint command system with good control of information and excellent precision in maneuvers.