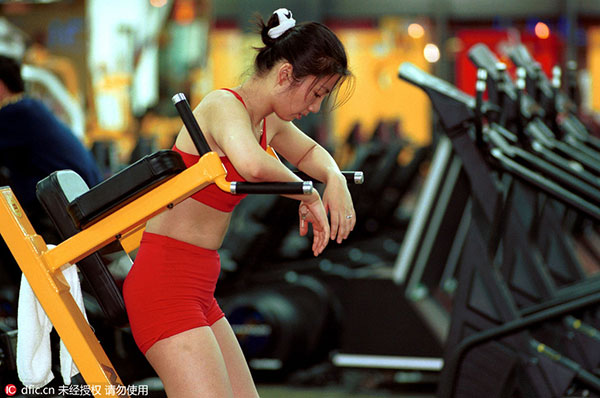 A Chinese young woman does body exercise in Golds Gym bodybuilding center in Shanghai. [Photo/IC]
Levels of physical activity among adults in China fell by nearly half between 1991 and 2011, according to a study published in the International Journal of Behavioral Nutrition and Physical Activity on Wednesday.
The decline was more pronounced in women than in men, and each new generation had lower activity levels than the previous one, according to the study conducted by researchers from the University of North Carolina at Chapel Hill in the United States, and Shanghai Municipal Center for Disease Control and Prevention.
Although the data suggested that younger men had higher physical activity levels than older ones at baseline in 1991, levels tended to fall as people aged. Physical activity levels for women aged between 25 and 48 years were similar at baseline, but declined across all age groups more sharply than for men. The difference might be explained by the changing role of women, the study said.
Living in urban areas and owning a car, a TV or a computer were associated with lower levels of physical activity, as were higher education levels or being overweight, the authors said.
The researchers used survey data on more than 13,000 adults from nine provinces and three big cities who were between 20 and 59 years old in 1991. The information was collected on nine occasions between 1991 and 2011.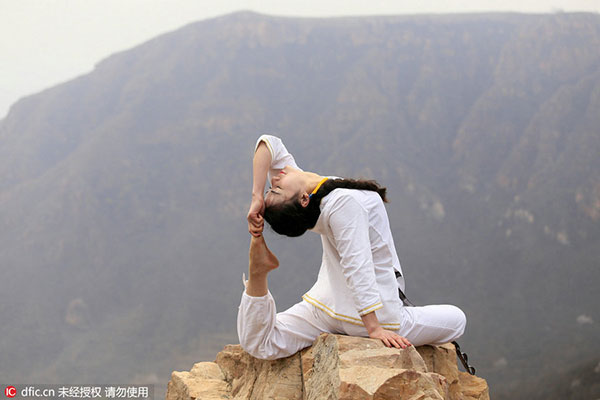 A woman practices yoga on a mountain top in Xinmi in Henan province, March 23, 2016. [Photo/IC]