Popular cafe fills needs for a 'home away from home'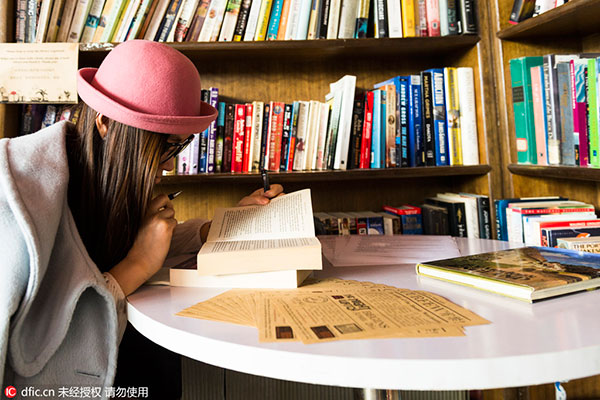 The Beijing Bookworm in April 2014. [Photo/IC]
Peter Goff is much loved in the expat communities in Beijing, Chengdu and Suzhou. That's also true for the Bookworm bookshop/restaurant he runs in those three cities.
Charmed by a painting of Hong Kong's Victoria Harbor on the wall of his parents' sitting room in Dublin, Ireland, young Goff didn't know he would later be in charge of the place that gained China a spot in the Lonely Planet's list of world's greatest bookshops.
"The painting was my first connection with Hong Kong, as well as this part of the world," Goff said, "and it was beautiful: a full moon over the canoes, with junks sailing in the back."
He is talking quickly in the Beijing Bookworm, boxed in a building with notable pink walls outside, while inside red lanterns hang high from the ceiling and great music floats in the air. It's a library of thousands of English-language titles.
Hailed as one of the most beautiful bookstores in the world by many international media, it has been a "home away from home" to many.
"Peter makes me not only feel welcomed, but also a part of the family," said Raquel Soto Sanchez, who works there part-time.
Goff's efforts not only include being hospitable to customers and partners, and being passionate about books, he has to "be innovative" as he's managing brick-and-mortar bookshops in the digital age.
"Bookshops used to rely on putting classic books and recent releases on the shelves, and they survived. Where we're trying to develop is through the community, where lots of events are organized," he said.
The community-based Bookworm has year-round programs, and an annual literary festival that just wrapped up on Sunday. Goff has also tried launching a magazine, plus holding a literary award and running a press.
"The Bookworm not only serves as a bookshop but a reliable resource and platform for sharing ideas, open discussions and debates for the international community," Georg Jensen wrote for the Lum Dim Sum blog.
This year's Bookworm Literary Festival featured 180 writers and thinkers from 30 countries in 300 events. In previous sessions, Peter Hessler, Benjamin Zephaniah, Howard Goldblatt as well as home authors Mo Yan, Yan Lianke and Bi Feiyu were festival speakers.
"Because it has been 10 years, people know what it's about, so they plan in advance," Goff said, adding that the embassies and international schools had already been talking about whom to invite next year.
In the past decade, Goff has witnessed China become "more accessible than ever before" and with an increasingly attractive publishing market. He said many of the writers from outside of China have arrived "with their own educational purposes".
Calling China "one of those major countries an international writer can't miss to visit", he advised writers to come in with open eyes and open ears, taking in as much as they can.
"You have to visit it, you have to see it, feel it, touch it, smell it yourself before you really claim to be a globalized writer," he said.
Meantime, he is amazed by the depth, variety and genre of contemporary Chinese writing.
"Chinese writers are very engaged in the society they're living in. They are engaging in wider discussions over the years with topics like environmental awareness, a sense of self, of belonging and of social justice," he added.
Goff was born in 1968 in Dublin into a family that "had no connection with China" besides that painting in the sitting room.
After graduation with a degree in journalism from Rathmines College in 1992, he worked for several newspapers that brought him to Africa and central Europe.
Willing to work in Hong Kong, he took a job there in 2000. At that time he "caught the China bug", and was "struck by how dynamic China was as it was going through a period of such frenetic change" he wrote in a column in China Daily in 2015.
He then arrived in Beijing "with no friends and no relatives here", stationed somewhere in the Haidian district where he studied Chinese and got an apartment before looking for a job.
"There were more one-level buildings and more bicycles in the city when I arrived," he recalled.
Beginning in 2002, he and Alexandra Pearson, daughter of a British diplomat, started to manage a big English language book collection that became the foundation of the current Bookworm.
Goff went to Chengdu, Sichuan province, to develop a Bookworm branch in 2006, and later another one in Suzhou, Jiangsu province, in 2007.
"I was seeking a laid-back space, a bridge in some ways between the East and the West, between the readers and the writers. A social community platform where people would come in, listen to music, eat nice food, just hang out and meet people from all around the world," he said.
The experience in Chengdu left deep marks on Goff. He developed a "hot and spicy" tooth there, and loves to take international writers to hot pot dinners even when they are in Beijing.
He was at the front of rescue work when the earthquake hit Sichuan in May 2008. He carried on the quake relief efforts until 2015, when he and the team handed over a school to the local authorities.
"For some reasons I just fell in love with Chengdu. I love its atmosphere, and bought a house there that I call my second home after Dublin," he said.
Goff took over part of Pearson's responsibility as she left for home in 2013, and since then has been based mostly in Beijing. His hobbies include Irish football, hiking, swimming and lots of reading.
And though he doesn't travel as much as previously, he still chooses to go to literary festivals around the world, including his top holiday destinations of Toronto, London and Jaipur.
"Every world-class city has got world-class literary festivals," he said.
Q&A
Do you regret your decision to stay in China?
Absolutely no regrets. It's been a beautiful time in China. It's an honor in many ways, because China is a wonderful country with an incredible past and a really exciting future. And I think it's just great to have the opportunity to be present to watch these rapid changes happen on a day-to-day basis, watch the society blossom, and watch China become a real high-profile member on every level of the world society. It's great to be here to witness that.
What kind of Chinese writers do you want to introduce to the international audience?
Writers that offer something that's fresh and new.
I'm looking for people who write stories that are based in today and really reflect young Chinese writers' experiences of the society they're living in. And there's all those issues they're dealing with: all the issues of urbanization, job pressure, relationship pressure, family pressure, environmental pressures, that all those different things coming together and all being seen on a daily basis.
People around world still have more historical views of the country-based on the movies and books they have experienced. It's important that those new things get out, not to ignore the great historical materials, but also have with that, contemporary material, contemporary writers who are young, energetic, charming, smart people.
What is a typical Peter day like?
In the morning, I'm quite at home, reading, writing and catching up with emails.
I always come in at lunchtime at the Bookworm, and in the afternoon, do some organizational work with the team. Most evenings, by 7 o'clock, I'd prepare for the daily events for the nights.
What's the biggest challenge of running a bookshop in Beijing?
The biggest challenge of running a bookshop and a literary festival is economic. The biggest threat to our existence every month is how to pay rent, how to raise money to pay for those flights for so many authors. And that's every year.
Currently most bookstores have to look for different revenue streams. We focus more on events and so on. I don't mind, whatever way works for a bookshop to keep still open, I'm very happy to do that.
What are you reading? And who's your favorite Chinese writers?
Besides my bed I have a big stack. My current favorite is Wish Lanterns by Alec Ash, to be released soon. It's about this generation of Chinese youth, where they're going to, what problems they are facing, how they are moving out into the world.
I'm thrilled about Yan Lianke, and a massive fan of his. The people we invited to this year's Bookworm festival are some of my favorite writers: A Yi, Han Song, Yi Sha. They're so different and so wonderful.