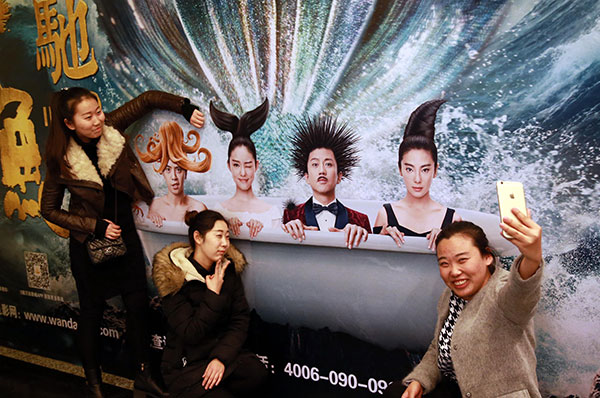 People pose in front of a poster of The Mermaid, directed by Stephen Chow, at a cinema in Beijing in February. ZOU HONG/CHINA DAILY
China's box office revenues jumped by 51 percent to a record 14.47 billion yuan ($2.23 billion) in the first quarter, thanks to a rise in audience numbers during the New Year holiday season.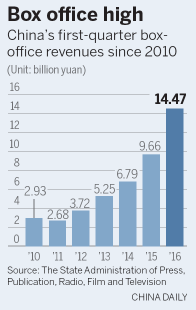 However, despite being delighted by the rise, many insiders have voiced concerns about irregularities and possible bubbles in China's movie industry, and have called for a more healthy and sustainable development.
Data released on Sunday show that the week-long Spring Festival holiday, from Feb 7 to 13, generated 3.6 billion yuan in ticket revenues, while February enjoyed the quarter's best returns with 6.9 billion yuan, according to China National Radio. It cited new figures from the Office of National Film Development Funds Management Committee, affiliated to the State Administration of Press, Publication, Radio, Film and Television, which collates statistics for box-office receipts.
Earning 10.5 billion yuan, Chinese films accounted for almost three-quarters of the takings in the country's box offices during the first quarter, with the record-breaking romantic comedy The Mermaid earning 3.4 billion yuan.
Zootopia was the most popular foreign movie, with box-office receipts of 1.34 billion yuan, according to the data.
"In the past, people were used to watching the Spring Festival Gala and that was it. Now, going to the cinema has become the norm for many people during the holidays," said Yin Hong, director of Tsinghua University's center for film and television.
Yin said the sharp rise in revenue was mainly due to migrant workers returning to their hometowns during Spring Festival and bringing their family to the cinema as a treat.
"These young people are used to the urban lifestyle, and they still want a taste of it back home, while making the whole family happy at the same time. With more screens set up in small and medium-sized cities, going to watch a movie is a good choice," he said.
Last year, the number of movie screens in China rose from 23,592 to 31,627, with 22 added every day on average, many of them in smaller cities, according to the administration.
Yu Chao, deputy general manager of Capital Cinema, one of Beijing's oldest film theaters, said the rate of increase was far slower in Beijing, China's largest film market, than elsewhere. Last year, Beijing's cinemas held market share of about 7.2 percent.
"Our most popular downtown cinema enjoyed an increase (in revenue) of less than 3 percent, while a newly opened one in the suburbs saw a rise of 20 percent," Yu said.
'Local and cheerful'
Zuo Heng, an associate researcher with the China Film Art Research Center, said the popularity of Chinese movies was partly the result of habits that prevailed during the Spring Festival holiday.
"The more local and cheerful the films are, the more popular they are. That's because during the New Year season people go with their families for fun, instead of seeking high-quality aesthetic experiences," he said.
Experts and industry insiders have called for stricter regulations and support for talents to promote the healthy development of the industry.
Amid the boom illustrated by the record-breaking figures, the martial arts movie Ip Man 3 caused a stir after the film's distributor admitted fabricating box-office figures.
"A booming industry is more likely to come through speculation and loopholes. The film industry is no exception," said Yin, from Tsinghua University. "For sure, we need more comprehensive regulation and better enforcement."
In March, Wang Zhonglei, president of Huayi Brothers Media Corp, China's largest private film company, also voiced concerns at the annual Boao Forum for Asia.
"I do think there are bubbles in China's film industry, but the big market offers us enough room for development," he said. "Currently, the market is growing so quickly that we lack a mature industry to support it."
Wang was particularly concerned about the dearth of professional talents and the quality of the films.
"When producers come to me to promote their ideas, they always mention that the film could be turned into a game, theater play or even a theme park-but not every work needs to be developed into a listed company," he said.