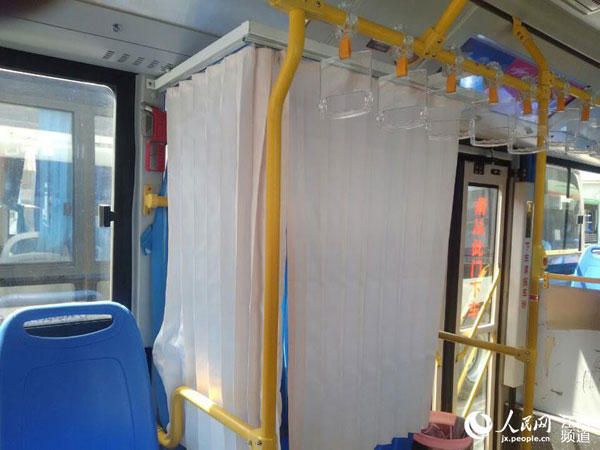 The special "breast-feeding seat" is encircled by pink curtains on a bus in Pingxiang city, East China's Jiangxi province. [Photo/people.com.cn]
Feel embarrassed of breast-feeding in front of others on a bus? More cities in China have started creating private spaces on public transport to help the mothers.
Pingxiang city of East China's Jiangxi province has become the latest to adopt the idea to set up special seats for breast-feeding mothers on 10 buses on four routes, a plan which won applause from the majority of Internet users.
The special "breast-feeding seats" are near the door and have pink curtains mothers can draw around them for privacy.
Other passengers could open the curtain and take the seat when there are no breast-feeding mothers onboard. When mothers carrying babies get on these buses, drivers will remind them to take the special seats.
A senior manager of the city's bus company said if there is a positive response more seats will be added.
According to an online poll on Sina Weibo, the Twitter-like service in China, the response from most respondents has been positive.
Some other cities had set up the special seats on buses in past years, such as Zhengzhou, capital city of Central China's Henan province, in August 2013 and Jinhua city of East China's Zhejiang province in September 2014.