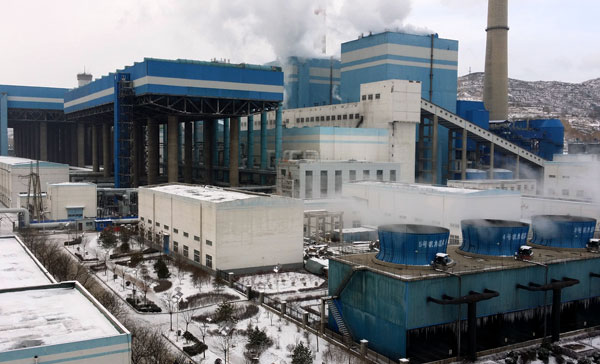 A view of the Gujiao Power Plant in Taiyuan, Shanxi province. [Photo by Sun Ruisheng/China Daily]
The province is adopting new measures to make the industry more efficient, while promoting environmental protection. Zhang Zhouxiang and Sun Ruisheng report from Taiyuan.
In this year's Government Work Report, Premier Li Keqiang specifically referred to the elimination of overcapacity in the coal industry.
"We have cut overcapacity and encouraged business acquisitions and restructuring," he said, listing coal and steel as examples.
The northern province of Shanxi must be under the heaviest pressure of all China's provinces, municipalities and autonomous regions. Having produced more than 25 percent of the nation's 3.6 billion metric tons of coal last year, Shanxi faces the task of cutting overcapacity, and also the heavy pressure of reversing the trend of slowing economic growth.
The burden is especially heavy because in his annual provincial Government Work Report, provincial Governor Li Xiaopeng set a GDP growth target of 6 percent for this year, almost double that of last year, when the figure was 3.1 percent, ranking Shanxi as 30th out of the country's 31 provincial-level economies.
The decline in the price of coal, one of the primary causes of Shanxi's economic slowdown, is expected to continue. The retail price remains as low as 190 yuan ($29) per ton in the province, almost 100 yuan lower than the cost of producing each ton.
Residents are now asking two fundamental questions: How will Shanxi survive, and can its coal industry handle the twin tasks of generating income while simultaneously cutting pollution?
Last year, Xishan Coal Electricity Group in Taiyuan, the provincial capital, was one of the few coal producers in Shanxi to make a profit, a fact that may offer food for thought, according to experts.
The company's third-quarter profit was 99.5 million yuan, more than four times higher than in 2014. The Gujiao Power Plant, the company's main profit generator, is pioneering the comprehensive use of coal to reduce costs and widen the profit margin.
Use of byproducts
"One of the main causes of Shanxi's low efficiency in the past was that we only made use of a small part of the coal we dug," said Wang Ziqiang, director of the Gujiao Power Plant. "The major part was thrown away as waste."
After extraction, coal is sorted into three groups: steam, or high-quality, coal, containing more than 22,990 joules - the basic unit of energy - of heat per kilogram; medium-quality coal, containing 18,810 joules per kg; and gangue, which is essentially worthless.
Generally, every kilogram of raw coal contains more than 0.3 kg of steam coal, more than 0.6 kg of medium-quality coal and less than 0.05 kg of gangue.
"Steam coal was welcomed by all customers, but the rest, including medium-quality coal, was treated as garbage," Wang said. "Instead of making money from it, the coal mine had to spend money to bury it; the process also polluted the environment."
The environmental cost was acceptable when coal-mining was profitable and environmental standards were low. However, the necessity of recycling coal by products was high-lighted as the retail price of coal fell below the cost of extraction and as environmental pressures increased.
For the first phase of the program, the Gujiao plant started generating electricity from medium-quality coal that would otherwise be discarded. Last year alone, the plant used 3 million tons extracted by coal mines affiliated to Xishan.
The coal powered two generators, each with an installed capacity of 300,000 megawatts, enough to support a city with a population of 2 million. In the second and third phases of the program, two 600,000-mW generators and two 660,000-mW generators will be built.
"Generating electricity with the byproducts of coal-mining is an inevitable trend for China," said Han Xiaoping, chief researcher at china5e, an energy information website. "In Denmark, all coal mines have been running thermal power plants since 2002."