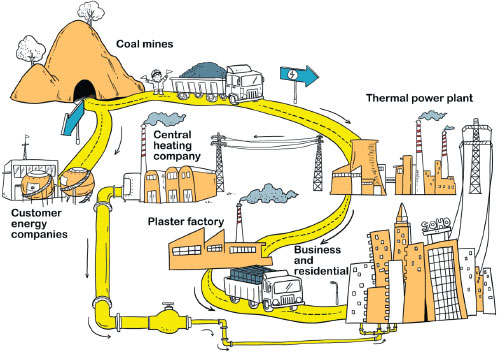 Reusing heat
The idea of building thermal power plants close to coal mines is not new, but Wang and his team have taken things a further step forward by recycling the byproducts in the power plant.
Thermal power plants heat water to 670 C to turn turbines and generate electricity. After that, the vapor becomes water again, but it remains at 60 C to 70 C and so it must be cooled before it re-enters the boiler.
The cooling process consumes large amounts of water; for example, a power plant the size of Gujiao needs at least 50,000 tons every day.
"The old philosophy was 'cooling down' the steam," Wang said. "We tried to improve efficiency, but heat was still wasted and efficiency was as low as 50 percent."
In 2015, the plant's management started using the steam to provide central heating for residents, and started an experiment in Gujiao, an industrial county spread over 8 million square meters. After connecting their pipes to those of local central heating companies, Wang's power plant covered 6 million sq m, and the figure is expected to rise to 8 million sq m this year.
"We sell to the heating companies at 20 percent below the usual cost, because for us heat is a byproduct, too," Wang said. "That's mutually beneficial - our efficiency has been raised to higher than 99 percent."
This year, the plant's management plans to cover 50 million sq m, almost half of Taiyuan's 110 million sq m of residential houses that need central heating. "That means a lot of work laying pipes," he said, with a smile. "I hope Taiyuan residents will be able to use our heat as soon as possible."
Zhang Youxi, chairman of the board at the Datong Coal Mine Group, said his company is developing multiple coal-related businesses, such as thermal power plants, to make use of the byproducts of coal mining.
When burned to generate electricity, particles in the coal become fly ash, the main byproduct of thermal power plants.
"The usual practice is dumping, but that's a bad choice," Wang said. "It takes up too much space, contaminates the environment and requires a lot of labor to dig the holes."
In 2013, the power plant signed a cooperative agreement with a construction materials factory, which established a facility near the power plant to produce cement and plaster from the desulfurized ashes.
"Fly ash is a good material for producing plaster and cement", said Han from china5e. "It saves water and makes the products tougher and longer-lasting."
Gujiao supplies the factory with 2 million tons of fly ash every year. However, last year, its sales declined as the real estate market contracted.
"We had to wipe out their 2015 debt to us - 3.5 million yuan in total," Wang said. "But still, it's good business because otherwise we would have had to spend an extra 800,000 yuan to deal with the fly ash. We also helped to protect the environment."
Sustainability
While the cost of medium-quality coal used at Wang's power plant is reasonable because it is a byproduct of mining, the company sought to cut costs even further. So, a 7-km-long subterranean conveyor belt was built to carry the coal from the sorting sheds to the power plant. The transportation costs can be as low as 0.01 yuan per kg.
Last year, the company purchased coal from associated mines at protected prices, almost three times lower than the market price, which helped them earn 800 million yuan.
It also sold electricity to other companies at below-market prices, thanks to the reasonably low costs.
The price gap is very important for factories, according to Li Dongyang, an engineer from the Changjiang Institute of Survey, Planning, Design and Research, who has worked with many steel plants.
"Take the steel plant as an example: A high-efficiency plant needs 500 kilowatt-hours of electricity to produce a ton of steel," he said. "Domestic giants produce dozens of millions of tons every year. If a factory can get cheaper electricity, it means a huge profit margin."
Wu Huatai, board chairman of Shanxi Coking Coal Group, the parent of Xishan, said change is inevitable: "If a coal enterprise clings to the old mode of only using high-quality coal, it will barely survive in today's market. The comprehensive, total use of coal is an irresistible trend."
Future outlook
Gujiao's method is just one of several ways of using coal comprehensively. The Datong Coal Mine Group has been developing thermal plants that use medium-grade coal, too, while also using the extra heat and fly ashes in its aluminum factories. Wang Jianguo, director and chief researcher at the Chinese Academy of Sciences' Institute of Coal Chemistry, said the institute has been researching how to extract gasoline from coal.
"Coal still plays a dominant role in China's energy structure and we must use it in a cleaner way to cut carbon emissions," he said. "Some people may question the additional costs, but if we do not spend money promoting the cleaner use of coal, we will have to spend money on curbing air pollution and fighting climate change in the future."