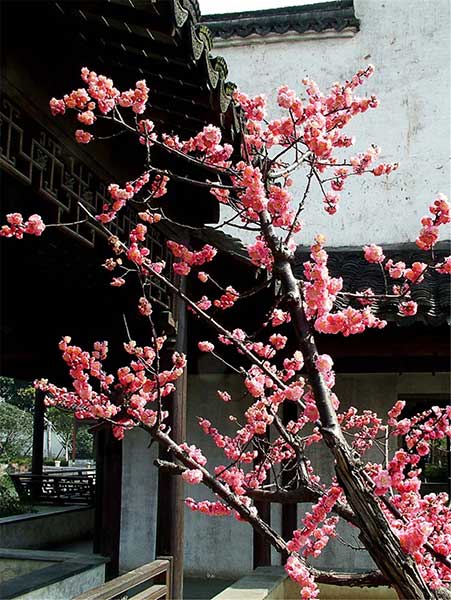 A peach tree blooms in the yard of an ancient ancestral temple in Huishan. [Photo provided to China Daily]
Ancestral temples continue to bring family members together in ancient town
Every day, the Guo family sends one of its members to the ancestral temple in Huishan, an ancient town in Wuxi of East China's Jiangsu province.
The representative cleans the temple, lights candles and welcomes visitors to the site.
"A visitor from Southwest China's Yunnan province shared our surname. He took a look at our family tree record, which is kept at the temple, and found out that his ancestors moved from Wuxi to Yunnan during the Ming Dynasty (1368-1644)," said Guo Zurong, who is also a member of the Wuxi Ancestral Temples Research Association.
"He was very excited to discover his roots. That's one of the reasons why we maintain the ancestral temple so well, to provide a spiritual home for our clan."
During their temple visits, members from four generations of the family kneel and pay their respects to ancestors. They recite the family motto — "Learn day and night; try to avoid an industrious start that ends in idleness."
The members also distribute peach-shaped steamed buns to passers-by, to share their family joy and pride.
"We plan activities including seniors' birthdays, babies' 100th-day celebrations and family weddings at the temple," Guo said. "These help remind people about their family ties, responsibility and love."
Last year, more than 200 family members gathered at the temple to celebrate the 100th birthday of Guo Pugen, a highly respected senior.
The Guo ancestral temple is one of the 118 temples in picturesque Huishan. The 0.3-square-kilometer town, which lies at the foot of Huishan Hill, has been considered a valuable feng shui site since ancient times. According to the traditional Chinese system of achieving harmony with the surroundings, those who are buried at the foot of the mountain enjoy peace and bestow fortune on their descendants.