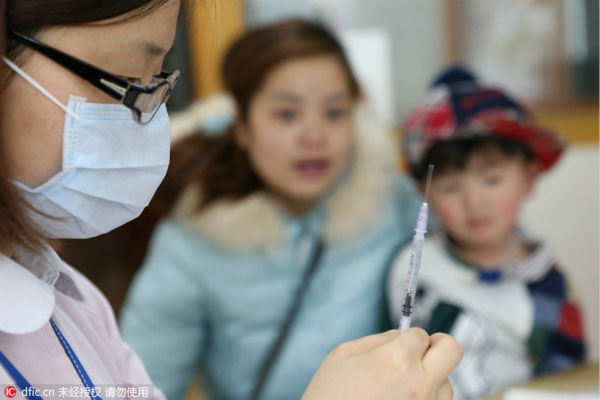 A Chinese medical worker prepares to vaccinate a young kid at a hospital in Shanghai, China, March 20, 2016. [Photo/IC]
The government vowed on Monday to thoroughly investigate the recently exposed scandal involving vaccines worth 570 million yuan ($88 million).
The State Council has set up a special team to look into the regulatory system that failed to stop the nationwide distribution of substandard vaccines since 2011.
The team comprises officials from the China Food and Drug Administration, National Health and Family Planning Commission, Ministry of Public Security, Ministry of Supervision and — most noticeably — the Supreme People's Procuratorate, in addition to a committee of experts.
The team, led by Bi Jingquan, head of the China Food and Drug Administration, will proceed under the supervision of an inspection team led by Ding Xiangyang, deputy secretary-general of the State Council.
The scandal, first reported in late February, has shocked the nation and triggered widespread public concerns over vaccine safety.
Police in Shandong province said they had arrested a mother and daughter alleged to have illegally sold improperly stored or expired vaccines in 20 provinces since 2011.
More than 130 suspects have been detained, and about 30 drug distribution companies were found to be illegally trading the vaccines and selling them to 16 vaccination outlets.
Premier Li Keqiang pledged on Monday that the government will strengthen protection of public health and crack down on any possible criminal offenses and dereliction of duty in food and drug supplies.
Wang Yukai, an administrative professor at the Chinese Academy of Governance, said that with the establishment of a highly professional investigation team, the government is "getting serious" about the issue.
At the same time, the introduction of the inspection team can help to calm public sentiment, he said.
Zhu Lijia, a professor of public administration at the same academy, said the participation of top prosecutors highlights the possibility of administrative dereliction of duty in the case.
"By setting up such a team involving so many government entities and professional staff, I think there has been a timely response to the incident," he added.
Contact the writer at luowangshu@chinadaily.com.cn