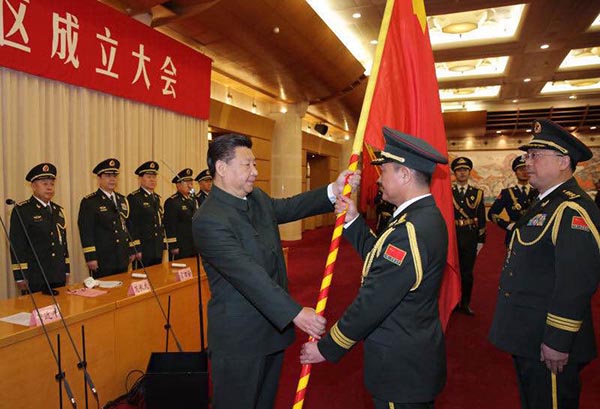 President Xi Jinping (L, front), also general secretary of the Communist Party of China (CPC) Central Committee and chairman of the Central Military Commission, confers a military flag to Commander Liu Yuejun and Political Commissar Zheng Weiping of the Eastern Theater Command in Beijing, capital of China, Feb 1, 2016. Xi on Monday conferred military flags on the five newly-established theater commands of the People's Liberation Army (PLA). [Photo/Xinhua]
BEIJING -- The Central Military Commission (CMC) has planned to gradually terminate all paid services in the military in three years, according to a CMC circular recently issued.
According to the document, military units will no longer be allowed to launch new programs or sign new contracts of paid services, and expired contracts may not be extended.
The CMC also rolled out principles and measures on the termination of military paid services, aiming to tackle problems that may emerge as a result of the move to phase out paid services.
The circular stressed that terminating all paid services was "an important political task" in building the armed forces, and urged units at all levels to fully implement the decision.
In late 2015, China initiated a new round of military reforms. Paid services were flagged to be removed, to reduce corruption in the army.