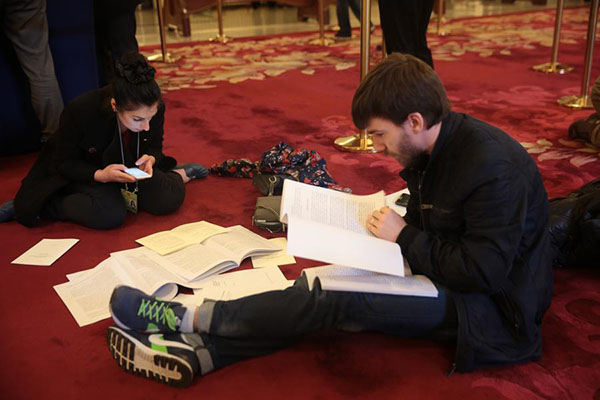 Reporters read the Government Work Report at the Great Hall of the People in Beijing as National People's Congress opens, March 5, 2016. [Photo/Xinhua] 
An illustrated version of the Government Work Report was published on Monday, Xinhua news agency reported.
People's Publishing House and China Yanshi Press jointly published the book that includes diagrams, charts and photos that show the highlights and priorities of Premier Li Keqiang's report.
It also allows readers to use their mobile phones to watch videos of Premier Li delivering the report and answering questions at the press conference by scanning the QR codes in the book.
Xin Guangwei, chief editor of People's Publishing House, said it is the first time an illustrated edition with videos has been released.
Most of the videos – 37 in total – are two to three minutes long and are from China Central Television's news programs, said Yu Ping, an editor of the book.
Videos also cover some of last year's events, such as President Xi Jinping's meetings with foreign leaders.
The book also carries cartoon images of President Xi and Premier Li.
It is the first time that President Xi's cartoon image is used in a book interpreting political documents, said Zhang Zhenming, a director of People's Publishing House.
The book also includes some officials' quotes on hot issues, such as Finance Minister Lou Jiwei talking about the deficit-to-GDP ratio of 3 percent and Minister of Science and Technology Wan Gang talking about entrepreneurship spirit.