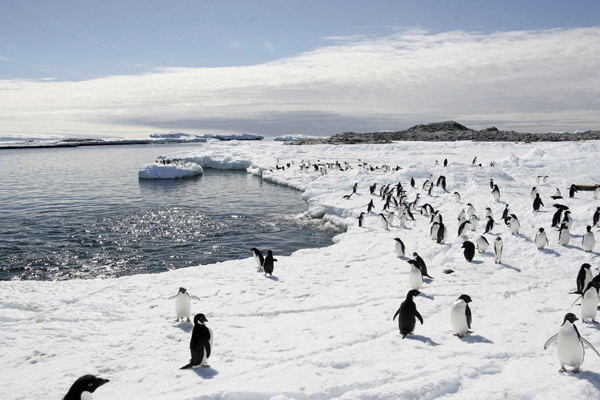 Adelie penguins walk on the ice at Cape Denison in Antarctica, in this December 12, 2009 file photo. [Photo/Agencies]
BEIJING - China's average annual rise in sea level from 1980 to 2015 was 3 millimeters, higher than the global average, according to a report released by the State Oceanic Administration on Tuesday.
The decade between 2006 and 2015 saw the fastest rise of the past 30 years, with the mean sea level increasing by 32 millimeters and 66 millimeters, respectively, compared with the figures from the 1996-2005 period and 1986-1995 period, said the report.
The report stated that thermal expansion of seawater and the melting of glaciers and ice sheets on land due to global warming contribute to the accelerated rise in global sea level.
China has seen its air and seawater temperatures increase due to climate change, along with lower air pressure in coastal regions, resulting in rising sea levels, according to the report.
Statistics showed that China's sea level drops during El Nino weather patterns. The sea level in 2015 was down by 21 millimeters from 2014 due to a strong El Nino that affected the central and eastern equatorial Pacific Ocean.
The report also suggested authorities take sea-level rises into consideration when planning coastal cities to ensure safety and effective disaster prevention and relief efforts.
Also on Tuesday, another report released by the administration revealed that oceanic disasters in China in 2015 caused direct economic losses of over 7.27 billion yuan (1.12 billion U.S. dollars) and the deaths of 30 people.
Data indicated that both the deaths and direct economic losses last year were lower than the average from the past decade.
The report also noted that storm waves led to 99.8 percent of direct economic losses. Seventy-seven percent of deaths were caused by sea waves.
In 2015, the coastal provinces of Zhejiang, Fujian and Guangdong suffered most during oceanic disasters, with their direct economic losses accounting for 97 percent of the total.