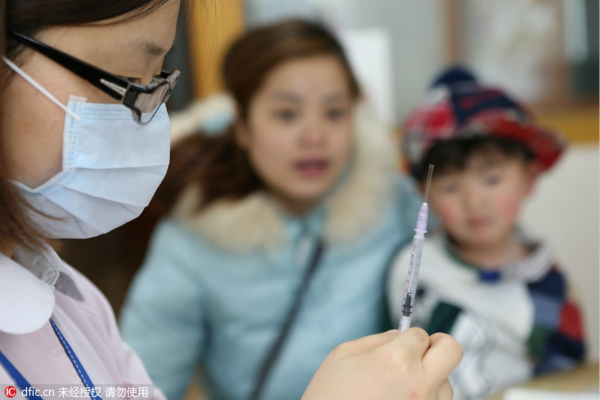 A Chinese medical worker prepares to vaccinate a young kid at a hospital in Shanghai, China, March 20, 2016. [Photo/IC]
BEIJING -- Improperly stored or expired vaccines pose a very small risk of causing a toxic reaction, according to a notice released by the World Health Organization (WHO) country office in China on Tuesday.
The notice said WHO is aware of the reports on a vaccine incident, and awaits the results of an investigation by the Chinese health authority. The organization also expressed willingness to provide support.
Vaccines need to be stored and managed properly or they can lose potency and become less effective, the notice said.
However, improperly stored or expired vaccines seldom, if ever, cause a toxic reaction, the notice said, adding that there was likely minimal safety risk in this particular incident.
WHO said vaccines used in China are proved to be safe and effective, having eliminated polio and neonatal tetanus and reduced preventable diseases to very low levels in China.
The notice said WHO encourages parents to continue to protect their children's health through vaccination.