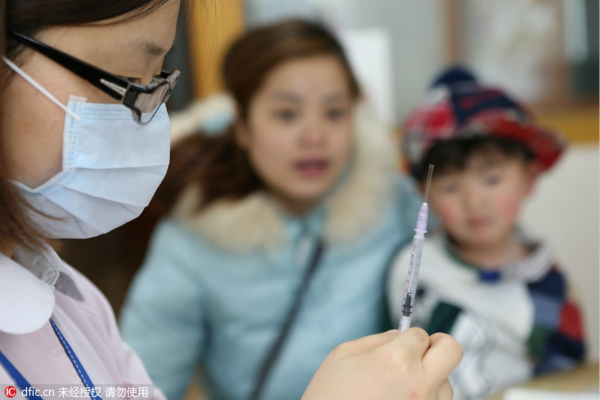 A Chinese medical worker prepares to vaccinate a young kid at a hospital in Shanghai, China, March 20, 2016. [Photo/IC]
JINAN - Police in East China's Shandong province have detained 37 suspects implicated in a vaccine scandal that has shocked the nation and raised questions over vaccine safety.
Shandong police announced last month that they had arrested a mother and daughter alleged to have illegally sold improperly stored or expired vaccines worth more than 570 million yuan ($88 million) across 20 provincial-level regions since 2011.
Three pharmaceutical companies are being investigated by police, according to the work group handling the case.
Of the three, Shandong Zhaoxin Bio-tech Co. has had its good supply practice (GSP) certificate for pharmaceutical products revoked and ordered to halt operations.
The investigation involves 12 vaccines, 2 immune globulin and one therapeutic product.
Meanwhile, the group has ordered a sweeping check-up of local vaccine makers, wholesalers and buyers.
China's drug regulator has identified nine vaccine wholesalers from six provinces suspected of filing fraudulent reports of buyers' identities.
The China Food and Drug Administration said Tuesday that it had given local authorities until Friday to find out who bought the vaccines.
China's top drug regulator, health authorities and police on Monday issued a circular ordering drug and health departments to trace the manufacturing source and to remove any of the substandard vaccines off the market as soon as possible.
It also called for efforts to identify and apprehend the suspects still at large, and a thorough investigation into the supply and sales chain of these inferior products.
Although produced by licensed manufacturers, the quality of the vaccines are questionable as they were not transported or stored properly.