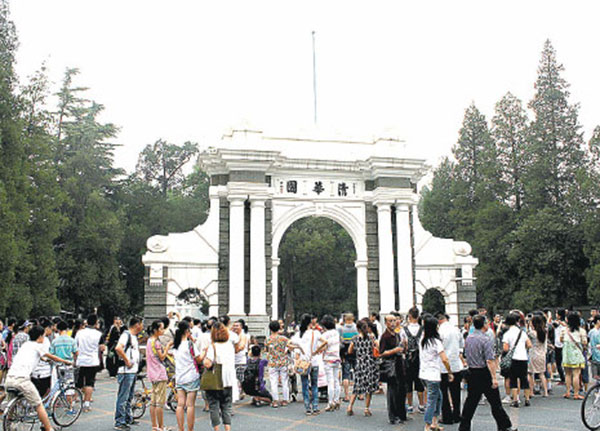 File photo taken on July 2013 shows students, some with their parents, wait to enroll for the new semester at Tsinghua University. [Photo/China Daily]
China has 88 universities that have at least one subject ranking in the worlds' top 400, according to the latest report from London-headquartered education company Quacquarelli Symonds.
The report, QS World University Rankings by Subject 2016, was published on the company's website on Tuesday.
It looks at 42 individual subjects taught around the world and names the top 400 institutions in each of those subjects, based on the institutions' academic reputation, employer reputation and research impact.
A total of 58 colleges and institutions from the Chinese mainland, eight from Hong Kong, 21 from Taiwan and one from Macao were included in the ranking for breaking into the top 400 in at least one subject. The good performance of the 88 educational institutions was second only to the US, which had 164 colleges and institutes ranked.
"This year, China has five subjects in the global top 10, 65 subjects taught at seven universities that are in the top 50 and 134 subjects from 24 universities in the top 100 ... these are internationally recognized achievements," Zhang Yan, China director at the QS Intelligence Unit, was quoted as saying by Shanghai-based Xinmin Evening News.
"In the future, China will give more independent development space to universities, and both the central authorities and local governments will work closely to support the more than 2,000 local colleges in becoming world-class universities. This will increase China's voice in the global education system and make China a new education powerhouse."
However, despite the fact that China had surpassed the UK, France and Germany in reaching second place worldwide in terms of the number of universities with at least one world-class subject in 2015, most Chinese universities that made the list only had one world-leading subject.
In contrast, universities including Harvard and MIT were leaders in dozens of subjects.
"The number of universities with world-leading subjects now is limited and the number of world-class universities is even less in China," said Rao Zihe, a molecular biologist and a member of the Chinese Academy of Sciences. "In order to develop more world-class universities and first-class fields of discipline, we need to clearly understand the current situation in different universities in China and the gap between reality and our goals, so as to make a rational cost-benefit analysis and spend government funding more effectively."