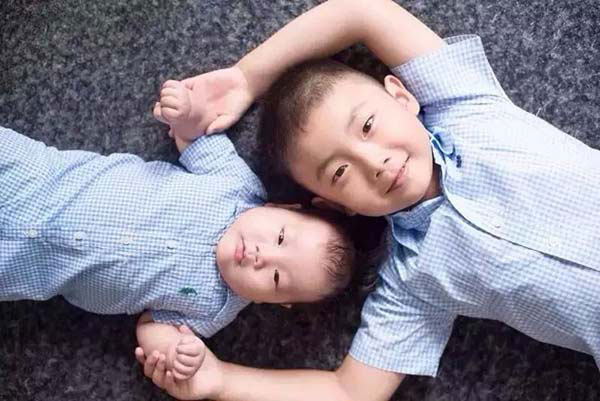 A boy with his younger brother. [Photo provided to chinadaily.com.cn]
Women employees in Beijing who give birth to a second child could have their maternity leave extended by up to three months, according to a revised regulation on family planning adopted by the city on Thursday.
The regulation was based on the revised national Law on Population and Family Planning adopted on Jan 1. The law allows all Chinese couples to have two children, putting an end to the national policy that allowed only one child for most couples who live in urban areas.
Their husbands can also have 15 days leave after their babies are born.
The regulation said that all women employees who give birth can have maternal leave for as long as 218 days, including the 98 days leave mandated by national law and 30 days leave offered by the Beijing regulation. In addition, women employees can have extra leave of between one and three months with the consent of their employers.
According to the previous regulation, which encouraged later marriage and pregnancy and having only one child, only women employees who had their first child when they were 24 years or older could have 30 days additional leave, and only women employees who decided to have just one child could enjoy additional maternal leave of three months with employer consent.
Other amendments include allowing some people, such as those with a child with disabilities, to have a third child.
Allowing women employees to have additional leave was made to "maintain the physical and psychological health of mothers and their babies, considering the burden on the social security fund and employers", said Liu Zhengang, chief of the Beijing Legal Affairs Office.
More than 4,100 suggestions were collected from the public on the draft law before it was submitted to the Beijing People's Congress, the city's top legislature, he said.
Other provinces and municipalities have revised their family planning regulations. In Shanghai, all women employees can now get maternal leave of at least 128 days.