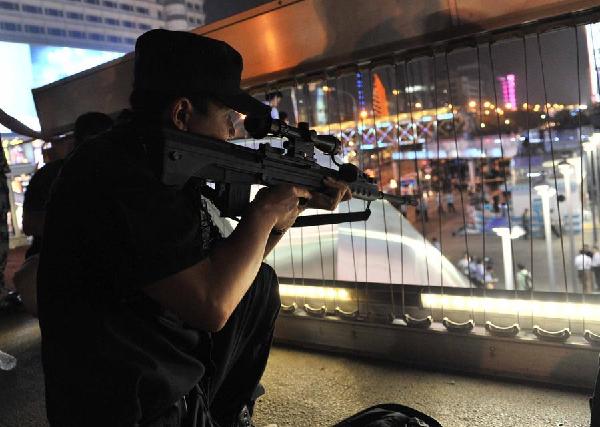 A policeman attends an anti-terrorism drill named "One-minute Handling" at the commercial district of Xidan in Beijing, Aug 29, 2014. [Photo/Xinhua]
Beijing police have stepped up efforts to mobilize the masses and fight terrorism in the capital.
Two whistle-blowers were rewarded 3,000 yuan ($462) and 2,000 yuan for providing information on terrorism and reporting hazardous items on the subway, the Beijing Municipal Public Security Bureau said on Wednesday.
One of them reported a foreigner suspected of being involved in terrorist activities, but no detailed information was available on the case.
More than 500 people have been rewarded with upward of 600,000 yuan by Beijing police since the city announced rewards for terror informants in March 2014.
According to the incentive program, whistle-blowers are awarded between 1,000 yuan to 40,000 yuan for reporting information on terrorism.
To better cope with the risk posed by terrorist activities, the bureau has organized six rounds of anti-terrorism drills and provided professional training to more than 2,500 personnel over the past year.