Ivory: Move reflects a harder line toward elephant protection
China has taken a further step to fight the legal ivory trade by banning imports of ivory and carved-ivory items acquired before July 1, 1975, when the Convention on International Trade in Endangered Species of Wild Fauna and Flora took effect.
The ban, which took effect on Sunday, will last until Dec 31, 2019, the State Forestry Administration, China's wildlife watchdog, announced on Tuesday.
This marked another step after two actions taken in February and October of last year, when the administration imposed separate one-year bans — one on imported ivory acquired after July 1, 1975, and the other on ivory acquired during trophy hunting in Africa.
In the statement, the SFA said the two bans issued last year cannot prevent ivory and related items that were pillaged and stocked up by countries during the colonization of Africa from finding their way into China.
"If we don't put ivory and carved-ivory items acquired before July 1, 1975, on the import blacklist, we could not stop people from making illegal profits by selling ivory and related products to China," it said.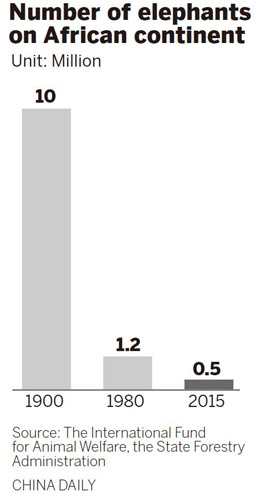 In addition, the two one-year bans will be extended to Dec 31, 2019, the administration said.
However, it said that activities with no commercial purposes, such as public exhibition, scientific research and cultural exchange, will not be affected by the new measures.
Yan Xun, chief engineer at the Department of Wildlife Conservation and Nature Reserve Management under the SFA, said this showed that the Chinese government has adopted a stricter approach and a harder line toward elephant protection.
The previous temporary bans on imported ivory have had positive results.
According to an SFA evaluation, the temporary bans have not only helped the international society better understand China's stance on the ivory trade, but also raised public awareness of wildlife protection. The number of cases involving Chinese citizens who bring back ivory products from other countries has dropped, it said.
The Trade Records Analysis of Flora and Fauna in Commerce, known as TRAFFIC, said the consumption of ivory within China has changed since last year's temporary bans.
Also helping to improve the situation is an agreement between China and the United States that almost completely bans the ivory trade and significantly restricts importing ivory obtained as hunting trophies.
TRAFFIC quoted WWTX.cn, an e-commerce antiques and collectibles platform with 1.7 million registered users, as saying that the trade volume of ivory for investment has dropped noticeably.
Zhang Shanning, a senior official of the Endangered Species Import and Export Management Office of China, said on March 11 that China will fulfill its commitment to banning the ivory trade. "Without a timetable, it doesn't mean we are not making any progress," Zhang said.
suzhou@chinadaily.com.cn