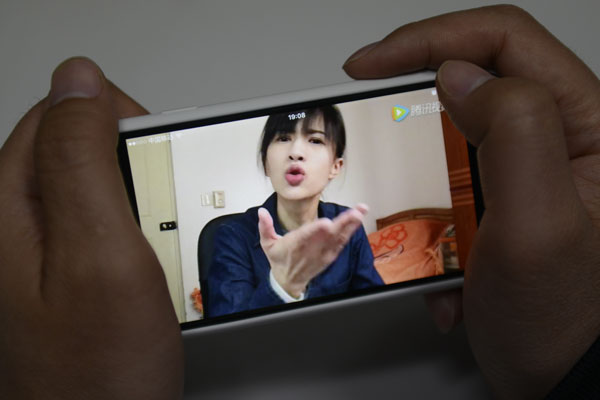 "Papi", a graduate of the Central Academy of Drama, became popular online in a short time. [Photo by Wei Xiaohao/China Daily]
Having your videos trend on the Internet can bring both fame and fortune, as a female blogger from Shanghai has recently found out.
"Papi", a graduate from the Central Academy of Drama, began posting her homemade videos on social networks in August.
She quickly gained a huge following, and her quirky clips, which can easily top 100,000 views each, soon caught the attention of Luo Zhenyu, an Internet sensation in his own right.
On March 19, the news broke that Luo had invested 12 million yuan ($1.84 million) in Papi, drawn by her humorous yet critical monologues on issues that affect people in China.
Papi's videos are widely shared on social networks such as WeChat and Weibo, where she has 8 million followers, but the reaction to her work has been mixed.
On Weibo, "Liuxiaoman" said, "Her hilarious commentaries on pop culture not only get the point, but are also thought-provoking."
Fellow Weibo user "Zuichu1998" praised Papi's work ethic, adding: "It must take her a while to shoot even the simplest of scenes. She deserves the money."
Some have argued that Papi just happens to be in the right place at the right time, as Internet sensations are all the rage.
"Because they have so many followers, Internet sensations are an attractive addition to any promotion," said Zhang Yi, CEO of iiMedia Research. "That's why people are keen to invest."
However, not everyone is optimistic about the staying power of the online celebrities.
"There have been sensations like this before. They usually don't last very long," said "DogRich" on Weibo. "Only those backed by professional agents can really make their way in this business."
Shen Yang, professor at Tsinghua University, expressed concerns about whether Papi could "stick to her own style" after the investment.
"Whether her commercial value continues to rise is also questionable," he said, recalling past Internet sensations Fengjie and Shi Hengxia who did not last long in the spotlight.
Still, a lot of people believe in Papi and this new era of Internet celebrity.
Heima, an investment critic, said that "attitudes regarding the Internet have changed", highlighting the rewards viewers give to Papi in the form of cash through WeChat. "That means people are now willing to pay for what they love to see on the Internet, especially if those people do or say things that resonate with them," he said.