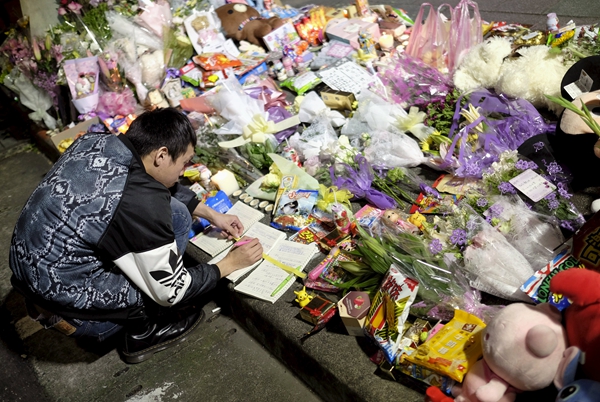 A man leaves a message in a book of condolences at a makeshift memorial near the spot where a 4-year-old girl was killed in Taipei, Taiwan, on Monday. [TYRONE SIU/REUTERS]
Brutal daytime murder leads to intensified death penalty debate
The death of a 4-year-old girl, who was beheaded on Monday in a knife attack in Taiwan, has sparked widespread public anger on the island and criticism of calls to abolish the death penalty.
The attack is said to have taken place as the child was cycling toward a metro station with her mother in Taipei.
Police said a 33-year-old man attacked and decapitated the girl with a cleaver in full view of her mother. Bystanders heard the mother's screams and rushed to restrain the attacker until police arrived.
The suspect, Wang Ching-yu had been arrested in the past for drug-related crimes and had twice sought medical treatment for mental illness after physical altercations with his family, police said.
Television footage on Monday showed angry people gathered outside a police station in Taipei where the suspect was being held. Some attacked the suspect as he was being transferred to the prosecutor's office for questioning.
Many went to lay flowers and toys at the spot where the girl was killed.
Taiwan resumed capital punishment in 2010 after a five-year hiatus. Executions are reserved for serious crimes, including aggravated murder and kidnapping, but politicians are divided over whether or not to retain it.
Hung Hsiuchu, leader of the Kuomintang, wrote on her Facebook page that the crime is "unforgivable".
"Can you accept abolishing the death penalty (under such circumstances)?" Hung said in an interview on Monday. She was elected the KMT leader on Saturday.
This is the second child-killing case in Taiwan in a year.