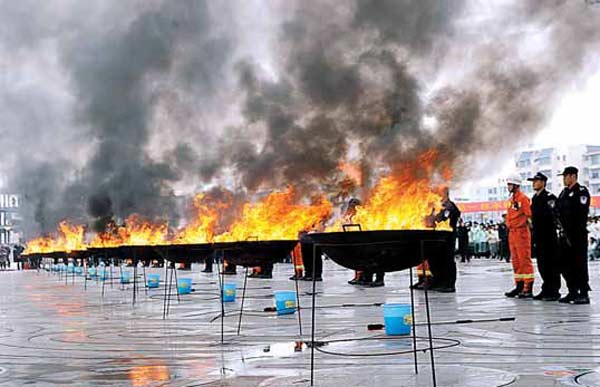 Police in Ningming, Guangxi Zhuang autonomous region, burn 1 metric ton of confiscated narcotics. [Photo/Xinhua]
BEIJING - The Supreme People's Court (SPC) on Wednesday published a circular emphasizing that death penalty should be used to punish drug crime.
In cases involving drug lords, professional drug dealers or re-offenders, if the crimes were serious enough, capital punishment should be handed down, said the circular formulated at a recent national conference on trials of drug crimes.
Death sentences may also be used to punish drug smuggling, organized transnational drug crime and armed or violent drug crime.
The top court also required more stricter standards for reprieves, ruling them out for re-offenders.
Reprieves for those found to have induced, instigated, conned or forced others to commit drug crimes should also be strictly controlled, the SPC said.
Abatements or probation for sentenced drug gang bosses, professional traffickers and re-offenders also needs to be scrutinized, the circular added.
The document went on that the amount of narcotics the suspects held for their own use will no longer be an element when the judges decide on convictions, and such facts will only be considered during the sentencing process.
The circular pledged equal punishment for drug-related crimes conducted via the Internet and vowed to step up the confiscation of the drug criminals' assets.