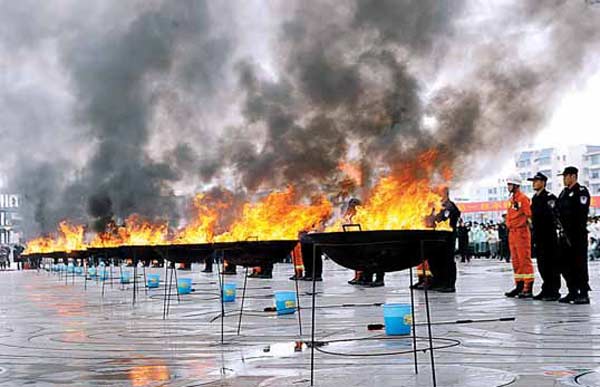 Police in Ningming, Guangxi Zhuang autonomous region, burn 1 metric ton of confiscated narcotics. [Photo/Xinhua]
BEIJING-- China had 2.95 million registered drug users by the end of 2014, but the actual number is estimated to be in excess of 14 million, according to China National Narcotics Control Commission (NNCC) on Monday.
The number of synthetic drug users has seen an average annual rise of 36 percent over the past years, reaching 1.46 million in 2014.
This is the first time it surpasses the number of registered heroin addicts, which stood at 1.45 million last year.
Although the growth of heroin users has been curbed, a high proportion still relapsed after rehabilitation, said Liu Yuejin, vice chief of the NNCC.
There is evidence that more youths are abusing synthetic narcotics.
The anti-drugs campaign has been overshadowed by increasing numbers of drug users and stronger, more addictive drugs, said Liu Yuejin.
Narcotics use has been linked to suicide, self-harm, violence, hostage taking and hit-and-run crimes, Liu said.
He strongly suggested an overhaul of drug legislation with much sterner punishment.
The police arrested more than 880,000 drug users in 2014, and admitted 264,000 into compulsory detoxification. Another 197,000 received community drug rehabilitation.
The authority also launched multiple nationwide campaigns, which resulted in the arrest of 169,000 suspects and the seizing of 69 tonnes of drugs in 2014.