The strong Debao pony, rediscovered at the dawn of China's era of reform and opening-up, is helping lead an equestrian resurgence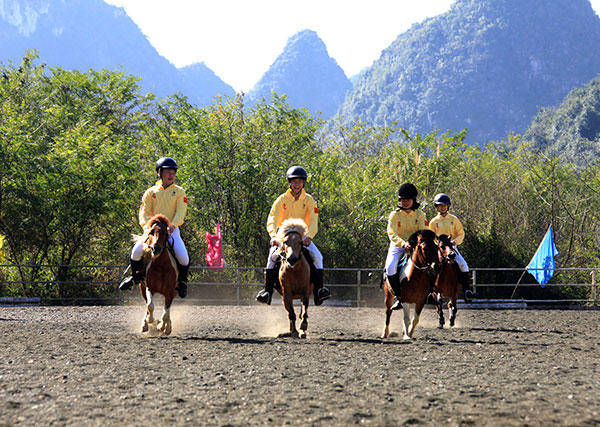 Teenagers learn horsemanship in Debao county, Guangxi Zhuang autonomous region. HUO YAN/CHINA DAILY
A sturdy Chinese breed of pony rediscovered 35 years ago is helping lead the growing popularity of horsemanship in the country.
The Debao pony from South China was "newly found" in 1981, according to a 2004 research paper from the Institute of Animal Sciences of the Chinese Academy of Agricultural Sciences.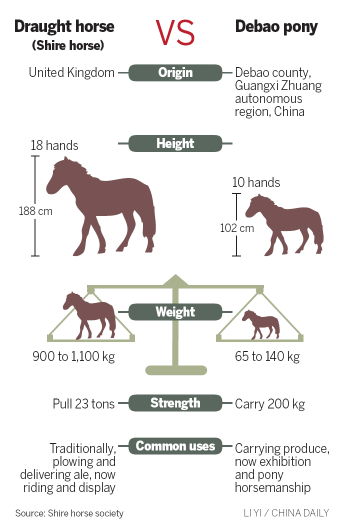 LI YI/CHINA DAILY
At the time, the pony, a descendant of an ancient breed, was in danger of being lost again to history. "Protection of this breed from extinction is imperative," the scientists wrote at the time.
But breeding of the Debao pony and the growth of equestrian sports centered on the breed have helped change the outlook. Debao county, which gave the animal its name, now is home to one of the largest pony breeding and research centers in China.
The county is located in Baise, the westernmost prefecture-level city of Guangxi Zhuang autonomous region. Debao is relatively small for China, with a population of 350,000 in an area of 2.6 square kilometers, but its namesake pony is spreading its fame.
The China Debao Pony Breeding Center was opened in 2009, and in 2012 it formed ties with local education authorities and the Debao County Technical and Vocational School to encourage equestrian skills among teenagers. For some, those skills are turning into a vocation.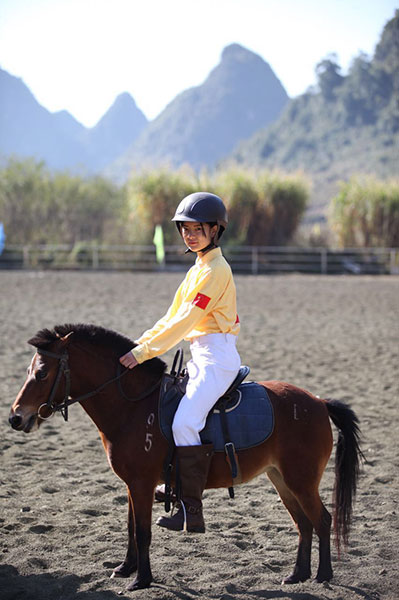 Lu Cuiting has been taking horsemanship lessons for more than a year. HUO YAN/REN QI/CHINA DAILY
Lu Cuiting, 16, a student at the school, says she started taking horsemanship classes at school a year and a half ago out of curiosity. But now, she is considering it as a job option and has the support of her family.
"Riding on a pony is quite different from riding on the big horses, as riding ponies is not that comfortable," Lu says. "However, I prefer riding the pony, for not only do they look so cute, but they are easier to control as well."
Lu Rizhang, 22, no relation, one of the first students to learn horsemanship at the local school and a member of the first polo team in Debao, became the school's riding coach in 2015.
The students study equestrian science in the classroom, then practice their riding and other horsemanship skills at the breeding center, says Huang Hanhua, director of center.
"I graduated from university as a veterinarian, so I teach animal health to the students in my spare time," Huang says. "The students come to the center to practice riding once a week, and we provide 50 ponies for the students to ride."
Liang Jiansen, a director of China Horse Industry Association, tells China Daily that although the Debao pony is short, it is muscular and strong enough to carry 200 kilograms in the form of cargo or a rider. Debao ponies reach a maximum of only 10 hands high. While the breed generally has a good temperament, it also is tough.
Liang says almost all horses in ancient China originated from Mongolian horses. The Debao pony, like its ancestor, the guoxia pony, has some "primitive" features, with a small, somewhat heavy head and small alert ears. The neck is short and the back is straight and short. The legs are strong, with tough hooves.
The guoxia pony was raised as early as the Han dynasty (206 BC-220 AD), and a 2,000-year-old bronze statue of a pony was discovered in China. The name guoxia, meaning "under a fruit tree", gives a clue to how it was employed since it was used to haul fruit and other cargo rather than being a means of transportation.
While not every pony is suitable for riding, especially for teenagers who are just learning, Huang says they choose the ponies that are strong but not too aggressive for the students. He says beginners take only a month or two to be able to perform basic riding maneuvers.
Mo Lianyu and Lu Cuiting sit on a wooden horse, which is used for students to practice horse riding. HUO YAN/REN QI/CHINA DAILY
Mo Lianyu, 14, in her second year at the school, started to ride two years ago. She says she chose equestrianism as a major course of study, but didn't get her parents' support at first because they worried it wouldn't provide a solid future.
Now, however, she says she is good at riding, and has been able to demonstrate the merits of her choice to her parents, as well as having a connection with the ponies.
Lu Rizhang, the coach, says the future of horsemanship students is quite bright, given that equestrian activities are becoming more and more popular among residents of China's big cities. With so many new horse ranches being built, many professional trainers and coaches are needed.
While there were only 10 students in the horsemanship class in 2012, nine of whom have gone on to get jobs at equestrian facilities around China, now there are over 70 students in the major as the demand for professional talent increases.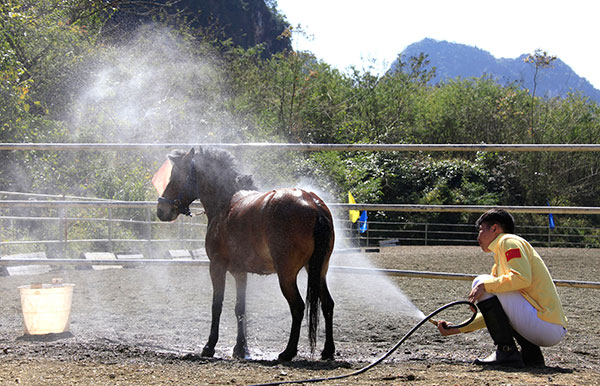 A student washes a pony after horsemanship practice. HUO YAN/REN QI/CHINA DAILY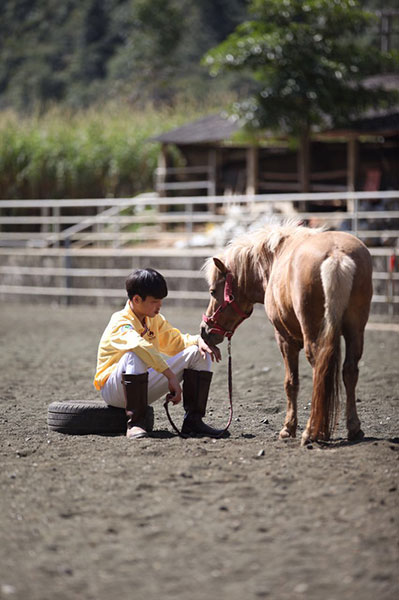 A teenager and his horse.HUO YAN/REN QI/CHINA DAILY