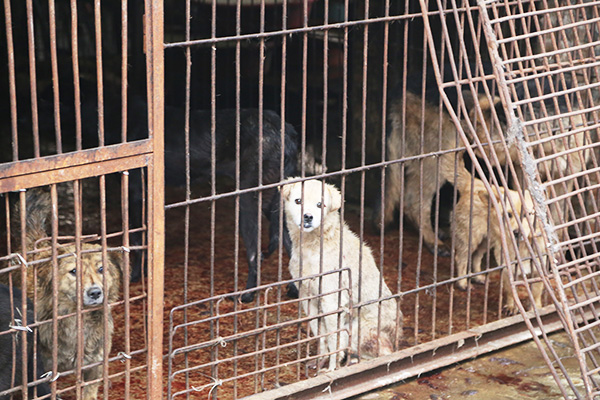 An expressionless dog sits in a cage with other dogs that will be killed in Yulin. Many dogs are killed in front of other dogs. Peter Li, China policy specialist for the Humane Society International who paid a visit to Yulin from March 29 to April 2, says many dogs die many times, both physically and psychologically. [Photo provided to China Daily by the Humane Society International]
After being rescued from a truck carrying dogs illegally in July, a three-year-old greyhound received a new name, new owner and new family.
When the dog was found by volunteers from the Vshine Animal Protection Association in Dalian, Liaoning province, it had back injuries and was covered in blood.
It and many other dogs were trucked hundreds of kilometers-six or seven of them stuffed into a crate or small metal cage without food or water and bound for the dinner table.
To prevent further cases, animal rights activists are calling for an end to an annual dog meat festival in South China that has been blamed for tarnishing the country's reputation overseas.
The festival in Yulin, Guangxi Zhuang autonomous region, is held in June, but has met increased opposition in recent years amid concerns over canine cruelty and unhygienic food handling practices.
Activists say they will continue to press for the festival to be banned and for legislation to be introduced outlawing the slaughter of dogs and cats for meat.
Qin Xiaona, founder and director of the Capital Animal Welfare Association, said, "The Yulin authorities need to adopt more proactive and decisive steps to crack down on an industry that kills dogs acquired illegally and sells their meat in breach of food safety regulations."
You may not have missed a videoOne lucky dog: Rescued from dog meat trade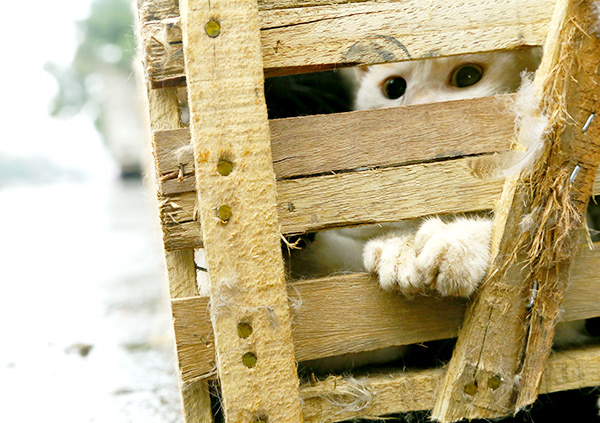 A cat looks out from a wooden crate in Yulin. Despite being the Dog Meat Festival, many cats will not escape the fate of being served on a dinner table. Photo taken between March 29 and April 2, about 11 weeks ahead of Yulin's annual Dog Meat Festival in 2016.[Photo provided to China Daily by the Humane Society International]
According to Humane Society International, between 10 and 20 million dogs are killed annually in China for human consumption, predominantly in the south and northeast.
Qin claims that more than 80 percent of these are stolen pets, according to research by her association.
Zhang Ying, a civil servant in Jiangsu province, said Tiantian, her 4-year-old Chihuahua, is more like a family member than a pet.
"I am worried that dog-eaters will force thieves to steal or poison our pets," she said, adding that eating dogs has no place in tradition.
Peter Li, China policy specialist at Humane Society International, said the Yulin festival has been scaled back in recent years amid pressure from the authorities and from domestic and international protesters.