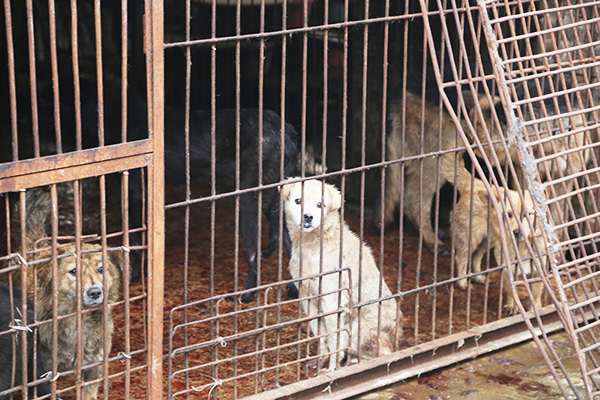 An expressionless dog sits in a cage with other dogs that will be killed in Yulin. Many dogs are killed in front of other dogs. Peter Li, China policy specialist for the Humane Society International who paid a visit to Yulin from March 29 to April 2, says many dogs die many times, both physically and psychologically. [Photo provided to China Daily by the Humane Society International]
Animal rights activists are calling for the end to an annual dog meat festival in South China blamed for tarnishing the country's reputation internationally.
The Litchi and Dog Meat Festival in Yulin, Guangxi Zhuang autonomous region, is usually held in June, but has met increased opposition in recent years amid concerns over canine cruelty and unhygienic food handling practices.
Activists say that they will continue to press for the festival to be banned and for legislation outlawing the slaughtering of dogs and cats for meat in China to be outlawed.
You may not have missed a video One lucky dog: Rescued from dog meat trade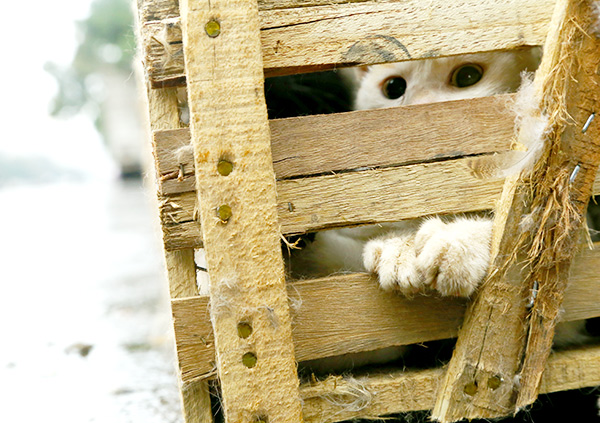 A cat looks out from a wooden crate in Yulin. Despite being the Dog Meat Festival, many cats will not escape the fate of being served on a dinner table. Photo taken between March 29 and April 2, about 11 weeks ahead of Yulin's annual Dog Meat Festival in 2016.[Photo provided to China Daily by the Humane Society International]
"The Yulin authorities need to adopt more proactive and decisive steps to crack down on an industry that kills dogs acquired illegally and sells their meat in breach of the state's food safety regulations," said Qin Xiaona, founder and director of Capital Animal Welfare Association.
According to Humane Society International, around 10-20 million dogs are killed every year across China for human consumption, predominantly in the south and northeast.