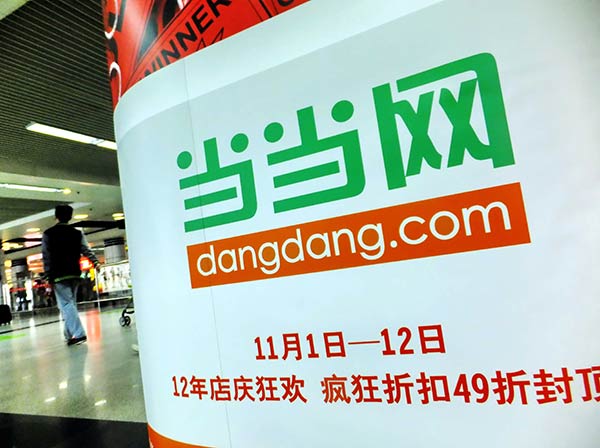 A passenger walks past an advertisement for Dangdang.com in Shanghai, Nov 3, 2011. [Photo by Jing Wei/Asianewsphoto]
China's major online bookstore Dangdang.com has announced on Tuesday that it plans to open 1,000 physical bookstores around China in the next three years.
Concrete steps to realize the plan are already underway, as its first brick-and-mortar book outlet will soon open in Changsha city next month. The first offline store, occupying 1,200 square meters, will offer books at the same prices as the online store.
It is said that its founder Li Guoqing was negotiating with many offline chain bookstores on the price issue and had promised a protective margin several months ago.
According to Chengdu Commercial Daily, Zhang Wei, the assistant president of Dangdang, said, "The offline bookstore we are opening is not the traditional bookstore anymore, but a cultural complex instead. It will come in the forms of mall, supermarket-style bookstore, county-level bookstore and others. Online and offline sales will be fused together."
At the beginning of this month, the American online retail giant Amazon launched its first physical bookstore "Amazon Books" at University Village in Seattle. The move aimed to drive sales online through offline stores and to better sell its products like the Kindle and Fire Phone.
Dangdang also plans to stimulate its online book sales in this way.
According to Dangdang's financial report of the second quarter this year released on Sept 1, it suffered a net loss of 21.2 million yuan (around $3.3 million), and its gross margin has dropped from the first quarter's 15.2% to 14.8%, a record low since 2013.
To combat this decline, Dangdang has turned to e-commerce in 2014, experimented with O2O (Online to Offline) services, and even going on the online financial market. However, these endeavors did not seem to pay off, as its share price kept falling since last year, according to usstock.jrj.com.
In China, physical bookstores are seen as part of a sunset industry. According to OpenBook, a Beijing-based book industry researcher, the growth rate of distribution channels for physical books was below 5% for three consecutive years between 2008 and 2010, and continued with negative growth in 2012 and 2013. 2014 witnessed positive growth and the first half of 2015 has seen relatively optimistic growth.
Physical bookstores have found it hard to survive in the Internet era. Therefore, many brick-and-mortar bookstores are now developing more services, for example by opening coffee shops and stationery shops. Some small bookstores are even forming alliances to fight the declining market.
Against such a backdrop, it is uncertain what Dangdang's move will mean for the market.