Military exercise may escalate tension in region, expert says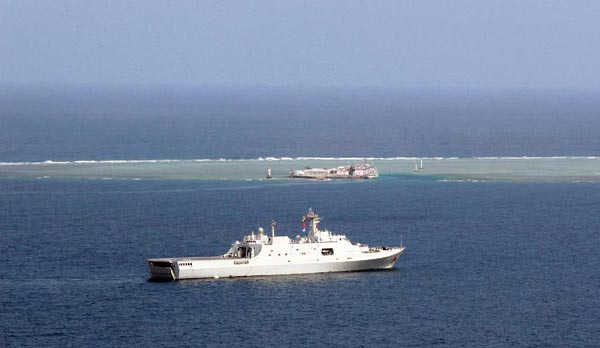 A formation of the Nanhai Fleet of China's Navy on Saturday finished a three-day patrol of the Nansha islands in the South China Sea. [Photo/Xinhua]
The ongoing US-Philippines military drill, which apparently targets China, and the predicted passage of US Navy vessels near China's Nansha Islands are designed to serve US interests at the cost of China's, observers said.
Manila is eager to expand its territory to China's Meiji Reef in the South China Sea, said Yang Xiyu, a research fellow at the China Institute of International Studies, and the US "might use its joint drill with the Philippines to show support for the expansion."
"It's highly possible that US forces will choose Meiji Reef for their passage," he added.
Reuters cited an unnamed source on April 2 as saying that the US Navy plans to send ships through a passage near Meiji Reef this month, the third in a series of such challenges that have drawn sharp criticism from China.
The US has conducted so-called freedom of navigation exercises in recent months, sailing near Zhubi Reef, part of the Nansha Islands, and Zhongjian Island, part of the Xisha Islands.
The scale and number of vessels sailing near the reef are not likely to be lower than the previous two challenges undertaken by US destroyers, Yang said.
Yin Zhuo, director of the People's Liberation Army Navy's Expert Consultation Committee, said Washington is using the South China Sea issue to endanger Beijing's ties with its neighbors and to draw Japan, the Philippines and Australia into a collective containment of China.
The move will lead to escalated tensions in the region, he said.
A small contingent of Australian troops will join the exercises, while Vietnam and Japan have sent officers in an observer capacity.
"Eager to undercut China's mounting regional influence, some specific nations take delight in sowing seeds of discord between China and rival claimants, and boosting their military presence and patrols to thwart China in the name of safeguarding freedom of navigation," Xinhua News Agency said in a commentary.
About 8,000 US and Filipino troops have been engaged in the annual, 11-day military exercise since April 4.