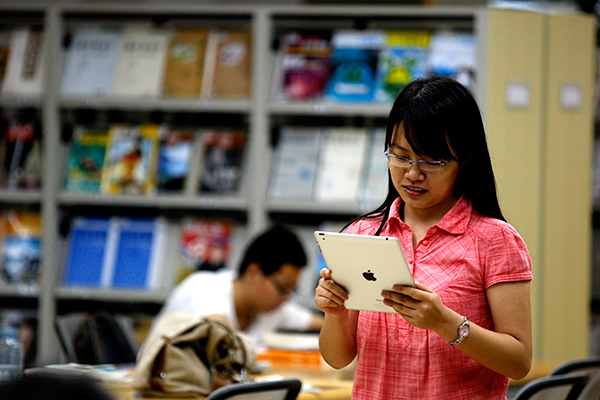 A student in Beijing uses her iPad to search for information. [Photo/China Daily]
In 1949 when the People's Republic of China was founded, only 117,000 students were attending colleges or universities. But the number soared to 37 million in 2015 - the world's largest student population.
Now, one in every five college students is in China, according to the country's first quality report on higher education, which was released by the Ministry of Education on Thursday.
China's higher education system, one of the largest in the world, has evolved quickly and contributed greatly to the country's development during the past seven decades, the report said.
The number of colleges and universities in the country now stands at almost 2,900, and is second only to the United States.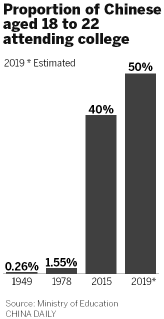 The report also shows that expenditures on higher education have increased greatly in recent years - as has the number of educators, the amount of real estate and teaching resources.
"The fast development of higher education in China has offered more ordinary Chinese people the opportunity to attend college. It has also provided intelligent support for the dramatic transformation of Chinese society," said Wu Yan, director of the Higher Education Evaluation Center, an institute under the ministry that conducted research for the report.
"Colleges and universities are playing increasingly important roles in the country's efforts to innovate."
But the report also found that China's higher education system has problems to overcome.
It mentions a low transfer rate for scientific research achievements, inadequate education in the fields of innovation and entrepreneurship and a phenomenon that gives more weight in educators' performance assessments to research success than to their teaching ability.
Zhong Binglin, director of the Chinese Society of Education, said it will take time to solve the problems.
"There is still much to be done for most colleges and universities to catch up with world-class universities," he said.
"To improve China's higher education, reforms should be continued, more resources should be allocated and advanced educational ideas should be introduced to create a good learning atmosphere and to cultivate students' innovative abilities."