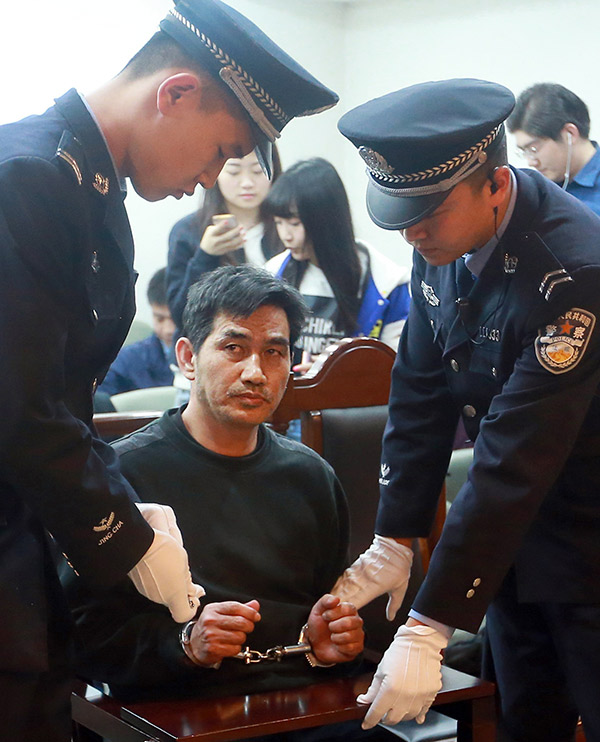 Chen Liangtao (C) appears in People's Court in Haidian District, Beijing, on April 14, 2016. [Zou Hong/China Daily]
A man was sentenced to 22 months in prison for bigamy on Thursday at Beijing Haidian District People's Court. 
Chen Liangtao, a 49-year-old native of Henan province, married one woman at the district's marriage registration office in March 2008 before getting married to another in Shandong province the same year, according to court documents.
In March 2010, Chen divorced both women, but three months later fell in love with another woman from Inner Mongolia autonomous region and married her, the court said.
While married to the third woman, he then went on to marry a fourth in 2012 in Henan.
Chen had children with the first and second wives, the court said, adding that the case only came to light when the first wife sued him over a child-raising dispute. 
In a statement after the judgment, Chen said he had met three of the women through a marriage website and claimed that civil affairs' departments had issued certificates for all four marriages.
Marriage registration information is not shared through a national network at present, "which is why the convict could marry different women," said the judge in charge of the case, who refused to be named.
The convict told the four women that he was a businessman and owned a company. "None of the victims confirmed what he had said before they married, let alone did a background check," the judge said. 
Last year, both the third and fourth wives filed for divorce and subsequently filed cases against Chen in court.
He was arrested in August last year, the judge said, adding that the youngest victim was 33 and the oldest 39.
The judge suggested women do more research on the men they meet online before getting married. 
In addition, she said that the court will issue judicial advice to civil affairs' departments around the country, suggesting they establish a nationwide information sharing platform as soon as possible.
Contact the writer at caoyin@chinadaily.com.cn