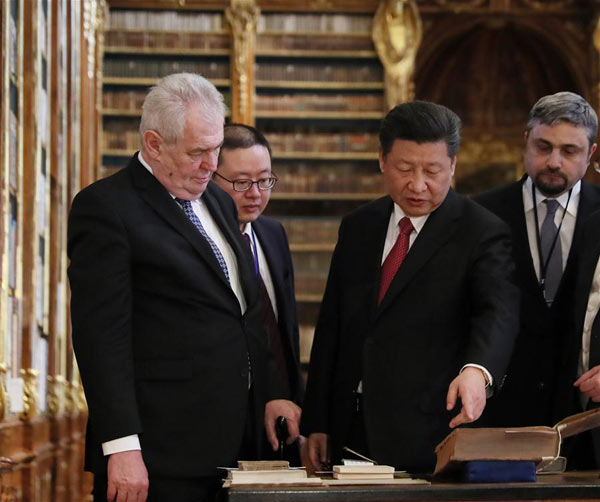 Chinese President Xi Jinping (R, front) and his Czech counterpart Milos Zeman (L, front) visit the Strahov Library in Prague, the Czech Republic, March 30, 2016. [Photo/Xinhua]
PRAGUE -- Chinese President Xi Jinping paid a visit to the historic Strahov Library in Prague on Wednesday, the last day of his three-day state visit to the Czech Republic.
In company with his Czech counterpart Milos Zeman, Xi toured around the place and stepped onto the veranda to have a bird's eye view of the Prague city.
Xi said that he was amazed to see the rich arts and cultural collection in the library and that the Czech Republic has long history and bountiful cultural heritage, which are the precious wealth of the people.
Known as the oldest library in the Czech Republic, the library in the Strahov Monastery was built in 1143. It has a collection of about 200,000 old prints, most from between the 16th and the 18th century, in addition to around 3,000 manuscripts and 1,500 first prints.
Xi said there is great potential for both nations to conduct cultural exchanges and cooperation. He urged both sides to intensify such exchanges and boost mutual understanding to lay solid foundation for bilateral ties.
While bidding farewell to Zeman at the library, Xi said he felt the friendship of the Czech government and people during his visit.
He said he had frequent and in-depth exchanges of views with Zeman during the visit, which have paved the way for bilateral ties to further grow.
China is willing to maintain high-level exchanges with the Czech Republic, enhance strategic partnership and cooperation in various fields so as to open a new chapter of the bilateral ties, Xi said.
Zeman congratulated Xi on his successful visit. He said his country attaches great importance to the ties with China and stands ready to further promote substantial cooperation to benefit both peoples.
Xi arrived in the Czech Republic on Monday for a three-day visit. He left Prague on Wednesday for Washington to attend the fourth Nuclear Security Summit to be held from Thursday to Friday.