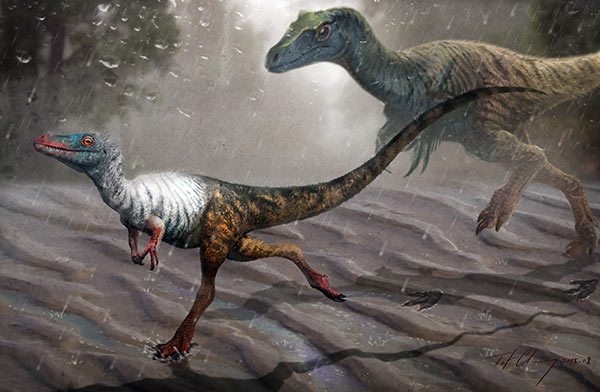 Illustration of Minisauripus based on footprints recently discovered in Zhaojue county, Sichuan province.[Zhang Zongda/China Daily]
Collections of tracks are millions of years old, but mining poses threat to their survival
A set of dinosaur footprints recently discovered in Zhaojue county in Southwest China's Sichuan province sheds more light on the mysterious life of Minisauripus-the smallest dinosaur ever found-but scientists are warning that similar ancient traces could be lost forever because of mining.
Minisauripus, which was similar in size to a sparrow, lived during the Early Cretaceous period (more than 100 million years ago) alongside many larger dinosaurs that have since become well known names, such as the Microraptor. Scientists hope the new prints will help ensure the general public can learn as much about Minisauripus as its peers.
"The discovery of Minisauripus may challenge people's traditional thinking that all dinosaurs were big guys with scary teeth and claws," said Xing Lida, a doctoral student at the China University of Geosciences. "On the contrary, the footprints discovered in Zhaojue belonged to a small fluffy dinosaur the size of a bird."
Xing has been investigating the footprints in Zhaojue alongside experts from the US and South Korea. They found around 70 well-preserved footprints on a 26-square-meter section of rock and reported the finding in the scientific journal Palaeogeography, Palaeoclimatology, Palaeoecology in late April.
"This is the fourth time in the world and the third time in China that traces of Minisauripus have been found," Xing said. "Due to the well-preserved condition of these footprints, the new evidence may point to some new research directions for us."
The prints were found in an area awash with clues about the past. Zhaojue county has been the scene of many discoveries of fossilized footprints-the Minisauripus prints were the sixth set of dinosaur footprints to be discovered there since 1990.
Based on the many sets of prints, scientists have made many discoveries, including proving carnivorous dinosaurs-previously thought to be poor in water-could swim.
But the experts fear the area and its prints are under threat from mining. They say one set of prints, a collection of around 3,000 dinosaur tracks discovered in 1991 on a 1,500 sq m piece of rock, has already been destroyed. It is unclear exactly when they were lost.
E'bi Jiefang, director of the county administration of cultural relics, said the tracks are priceless sources of information about ancient creatures.
"From the dinosaur traces in Zhaojue, we can infer that there were different dinosaur species living in the region, which provides great material for researchers," E'bi said.
However, such development would be expensive for Zhaojue county, which is officially recognized by the State as a poverty-stricken county.
"The county government does not have enough money to protect these footprints. So we have appealed to higher levels in charge of land and resources," E'bi said.