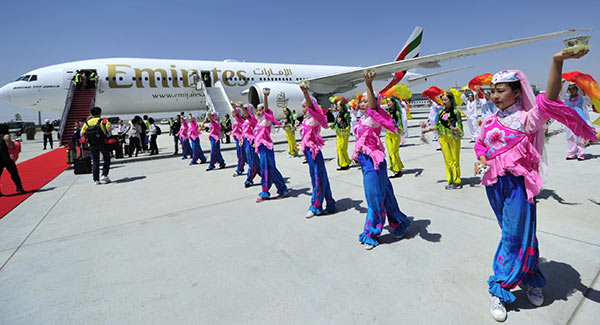 Dancers at Yinchuan Hedong Airport in the Ningxia Hui autonomous region welcome a Boeing 777 from the Middle East on Tuesday, when Emirates Airline launched its first direct flight between Dubai and Yinchuan, capital of Ningxia.[Zuo Mingyuan/For Chian Daily]
Clad in traditional clothing and holding the sweet tea that local Hui people serve guests, a group of dancers welcomed a Boeing 777 from the Middle East to Northwestern China on Tuesday.
Yinchuan, capital of the Ningxia Hui autonomous region and home of one of China's largest Muslim communities in the landlocked region, has eagerly awaited the landing of the first-ever Emirates flight.
The Dubai-to-Yinchuan flight is scheduled for every Tuesday, Wednesday, Friday and Saturday.
"Ningxia is joining hands with Emirates Airline to launch China's westernmost logistics center on the Silk Road to develop itself into a strategic highland in the country's westward opening-up and a strategic transit point on the Silk Road Economic Belt,"said Li Jianhua, Ningxia's top official, at the opening ceremony.
He said China and Arab countries have great potential for cooperation in trade, finance, tourism and real estate, and this flight serves as a good start.
Sheikh Ahmed bin Saeed Al Maktoum, chairman and chief executive of the airline and Emirates Group, said the route provides fast and convenient connections to Middle Eastern, African and European destinations via Dubai.
"We are confident that this air link will also help boost the flow of trade and tourism to growing central and western parts of China," he said.
After landing at Yinchuan Hedong Airport, the flight will continue farther east to Zhengzhou, capital of Henan province, before returning.
The Dubai-based carrier already flies to Beijing, Shanghai and Guangzhou. New routes have been scheduled to make seamless connections to destinations in the Middle East, Europe and Africa, helping local Chinese to travel to most cities in the world, via Dubai.
The new flight is the latest fact or boosting Ningxia's positioning of itself as a gateway from China to the Arab world and a strategic point in the Belt and Road Initiative.