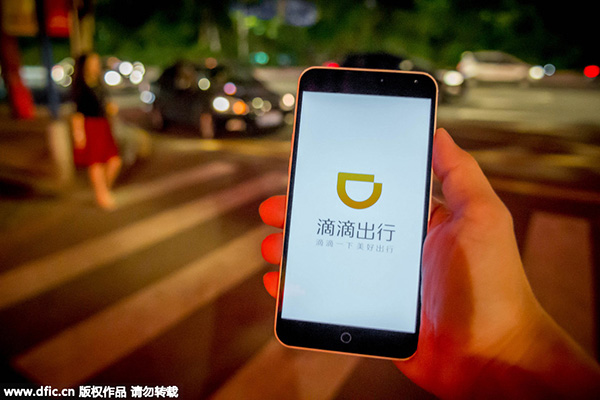 Didi Chuxing, a car-booking mobile app, is shown on a mobile phone, Sept 17, 2015. [Photo/IC]
A car-hailing app driver who robbed and killed a 24-year-old woman passenger on Monday in the southern city of Shenzhen has been arrested in Baoan district on Tuesday, according to Nanshan district police.
Police received a report early Tuesday that the woman, a teacher surnamed Zhong, booked a ride from Nanshan to her school at Baoan Monday evening but she could not be contacted at 10:15 pm as her phone was switched off, the circular said.
Nanshan police launched a search and found the vehicle the woman was riding in and arrested the suspect, a 24-year-old driver surnamed Pan, at a rented room in Baoan around Tuesday noon.
The suspect said that he received Zhong's order on the car-hailing platform and picked her up around 9 pm on Monday. He said he drove to an isolated area and used a knife to force her to hand over her valuables and then killed her.
The police said the woman's body has been recovered and the case is under investigation.
Nanshan police did not release the name of the car-hailing service platform, but media reports claimed that it was the Didi Chuxing, a leading online car-hailing service provider in China.
Tuesday night, the company confirmed that Pan was a registered driver on its platform, but the license of the car he was driving that night was fake.
A family member of the woman published an online post around 7 am on Tuesday to get help in the search, the Beijing Youth Daily reported.
The woman left home after 9 pm Monday and would have reached her dormitory by around 10 pm. She also took a photo of the vehicle's license plate and sent it to her family before she got into the vehicle, the post said.
But she did not call back home till 11 pm and her phone was off, the post added. Her roommates said that she had not reached the dormitory.
The woman's husband called the car-hailing platform late Monday and discovered that the driver had cancelled the ride, and the driver could not be reached as his phone was off. The family reported the matter to police.
In late March, Hongshan district court in Wuhan, Central China's Hubei province, sentenced a driver of Didi Chuxing to eight years in prison for raping and robbing a female passenger.
The driver, surnamed Li, picked up the victim late at night on Oct 19 last year before he threatened her with a fake gun. The victim said she was later raped and forced to wire 25,000 yuan to the man's bank account.
In November, Haidian district court in Beijing sentenced a driver of the same company to four years for raping a female passenger in July last year.
Safety concern has been one of major issues for the rapid development of the car-hailing service in China's cities since 2014.
Shenzhen city government said it has pledged to step up efforts to regulate the emerging industry to ensure passenger safety and urged online ride-hailing companies to comply with the law, accept their social responsibilities and resolve problems quickly.
One report published by the Shenzhen Transportation Commission estimated that 1,425 drivers working for online platforms had a history of drug abuse, and 1,662 had serious criminal records before taking up their current jobs.
Earlier in April, Didi Chuxing said it had expelled an undisclosed number of drivers in Shenzhen who were found to have a history of drug use, mental illness or significant criminal records.
China has no special law on regulating the car-hailing service. In March, several ministries vowed to support the popular services as part of the country's drive to encourage green consumption, sending a positive signal that ride-sharing operators in China will gain legitimacy and see further growth in the years ahead.