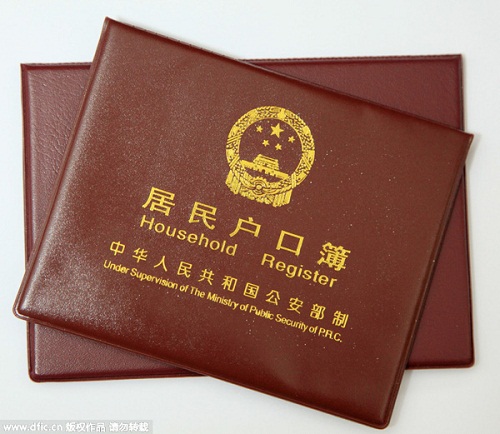 The reform of the housing registration, or Hukou system, has been under way in most regions in China. [Photo/IC]
After 11 years, a woman's Beijing household registration, or hukou, was nullified because authorities said she had used fake documents to obtain it.
The public security bureau of the capital's Dongcheng district canceled the Beijing hukou of Cheng Yuanyuan, saying she had used the university certificate of someone else, along with fake documents, to obtain her hukou in January 2005.
Liu Hongli, a teacher whose residence is in Xiangcheng, Henan province, said she found her hukou was void when she applied for a bank loan in September. She found that it had been moved to Beijing in the name of Cheng.
The two did not know each other, but Liu said that in 2004 a colleague had borrowed her university certificate to apply for a job for Cheng, the colleague's relative.
Beijing police said they looked into the matter and found that Cheng had used Liu Hongli's personal information and fabricated the household registration. An investigation is continuing.
Liu said the police in Xiangcheng issued her a new hukou and assured her they will do their best to solve any problems related to the matter.
A draft regulation of a points system was issued by the Beijing municipal government in December to allow migrants to get a household registration in the capital. Applicants must be under 45 years of age, have a Beijing temporary residence permit and have paid social security premiums in Beijing for at least seven consecutive years. No violation of the family-planning policy and a clean criminal record are also required.
Applicants who meet the basic requirements can accrue points based on their educational background, employment and property. The number of points needed will be determined on a yearly basis according to changes in the city's population.
Every Chinese citizen has a hukou, or household registration, which is also referred to as a residence registration account. It determines a person's access to education and other social welfare services in the place where their hukou is registered. A person cannot obtain certain social welfare benefits outside the registered locality.
Typically, for those who live and work in Beijing without a local hukou, their children can attend public schools if they pay a fee. But the children will not qualify to take the college entrance examination in Beijing when the time comes. They are required to return to the place of their hukou registration to take the test, where a higher score may be required based on different criteria and competition.