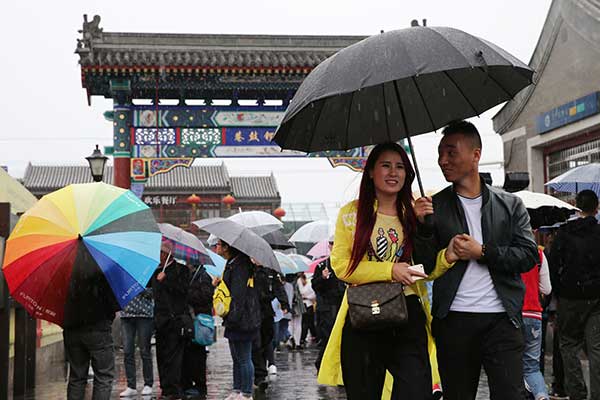 Tourists visit Nanluoguxiang as drizzle falls in Beijing on Monday.[Photo by Wang Zhuangfei/China Daily]
Nanluoguxiang, a well-known and popular ancient hutong in Beijing lined with shops, restaurants and bars, was packed with visitors during the May Day holiday despite a recent ban on tour groups in the area.
On Saturday, more than 70,000 visitors flocked to the 787-meter-long, 8-meter-wide alley that has eight narrower and symmetrical alleys on either side, while more than 90,000 visited on Sunday-similar figures to the same period last year.
Urban patrol officers were sent to entrances to the alleys to ensure the implementation of the new regulation and to direct the crowds, China News Service reported.
The officers initially suggested that tour groups change their plans to visit the 740-year-old alley, but when they insisted on arriving, they split them up into smaller groups and allowed them entry, Beijing Morning Post reported.
To ease congestion, the subway station at the south end of the alley was only used as an exit but not an entrance when the number of visitors surged.