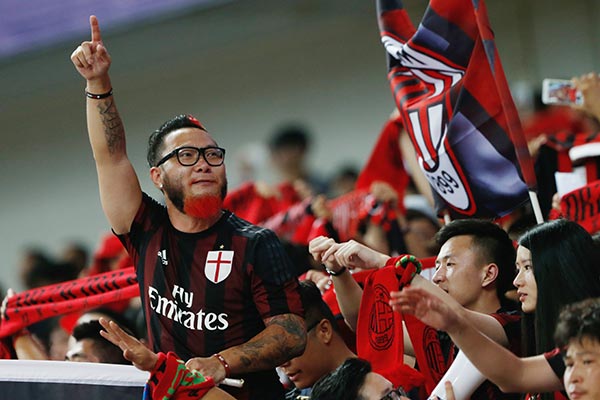 Fans of the AC Milan soccer club at a contest between the team and Real Madrid in Shanghai.[Provided to China Daily]
Two of Italy's top soccer clubs, Inter Milan and archrival AC Milan, say they have been approached by Chinese groups either seeking a stake or offering strategic partnerships.
A 12-person delegation from Suning Commerce Group, one of China's largest privately owned retailers, visited Inter Milan last Friday and Saturday. The club's chief spokesman Robert Faulkner said the delegation was headed by Suning Chairman Zhang Jindong.
AC Milan said it had received several expressions of interest in acquiring a stake, including some from Chinese groups.
However, China's richest man, Jack Ma, the Alibaba founder, dismissed reports that he is to buy AC Milan.
Faulkner said the purpose of Suning's visit was to discuss a potential strategic partnership between the club and Suning Commerce Group. This includes potential capital investment from the retail group and opportunities for the club in China.
The Chinese group owns Jiangsu Suning soccer club, and Faulkner said it is also interested in Inter Milan's academy structure and training center.
Faulkner said Inter has been in talks with three or four potential investors, but "the discussions with Suning are probably at the most advanced stage, as they came to visit us in Milan".
Simon Chadwick, a professor of sports enterprise at Salford Business School in Manchester, UK, said, "As China pursues its sports industry vision and its football goals, it is highly likely that we will see more European club acquisitions. ... Buying a club contributes to a diversified business portfolio, something that aligns with the conglomeration of some Chinese entertainment businesses," he said.
Strong Chinese interest in European soccer stems in part from the ambition heralded by President Xi Jinping to raise the quality of the sport in China.
The most prominent acquisitions to date are the purchase of a 13 percent stake in the company that owns Manchester City, worth $400 million, by China Media Capital and CITIC Capital, and 20 percent of the shares in Spanish club Atletico Madrid bought by Chinese billionaire Wang Jianlin's Dalian Wanda.