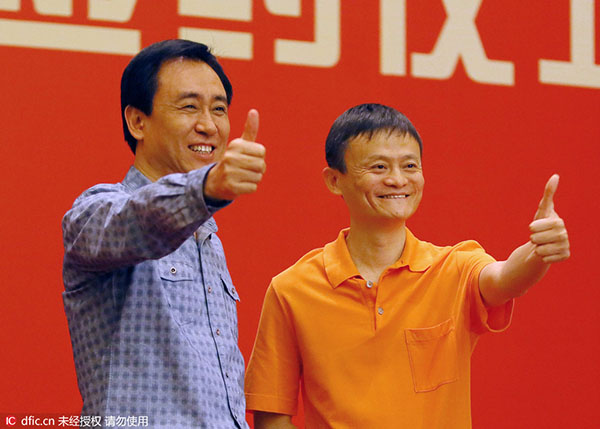 Jack Ma, Chairman of Alibaba Group, right, and Xu Jiayin, Chairman of Evergrande Real Estate Group, pose during a signing ceremony for Alibabas buying 50 percent stake in Guangzhou Evergrande soccer club in Guangzhou city, South China's Guangdong province in this June 5, 2014 file photo. [Photo/IC]
HANGZHOU, China - The owner of Chinese e-commerce giants Alibaba on Thursday denied reports that he is in talks with Italian Serie A club AC Milan over a possible takeover.
According to Wednesday's reports by Italian media, Ma has offered 400 million euros ($450 million) for a 70 percent stake in AC Milan and its club owner Silvio Berlusconi is taking it seriously.
But Alibaba chairman Jack Ma responded on Thursday by posting a joke on Weibo, the Chinese version of Twitter.
"Is AC Milan in the Italian city of Milan? I heard that Mike Tayson of the Lakers recently traveled to Milan, but I am not sure if it is AC Milan. Now Yao Ming will get in trouble," Ma wrote with a sense of humor.
Ma, who founded Alibaba in the 1990s, is also the joint owner of Chinese soccer club Guangzhou Evergrande.
Related reading: Investors eye Italian soccer giants by Wang Mingjie, China Daily
Two of Italy's top soccer clubs, Inter Milan and archrival AC Milan, say they have been approached by Chinese groups either seeking a stake or offering strategic partnerships.
A 12-person delegation from Suning Commerce Group, one of China's largest privately owned retailers, visited Inter Milan last Friday and Saturday. The club's chief spokesman Robert Faulkner said the delegation was headed by Suning Chairman Zhang Jindong.
AC Milan said it had received several expressions of interest in acquiring a stake, including some from Chinese groups.
However, China's richest man, Jack Ma, the Alibaba founder, dismissed reports that he is to buy AC Milan.
Faulkner said the purpose of Suning's visit was to discuss a potential strategic partnership between the club and Suning Commerce Group. This includes potential capital investment from the retail group and opportunities for the club in China.
The Chinese group owns Jiangsu Suning soccer club, and Faulkner said it is also interested in Inter Milan's academy structure and training center.
Faulkner said Inter has been in talks with three or four potential investors, but "the discussions with Suning are probably at the most advanced stage, as they came to visit us in Milan".