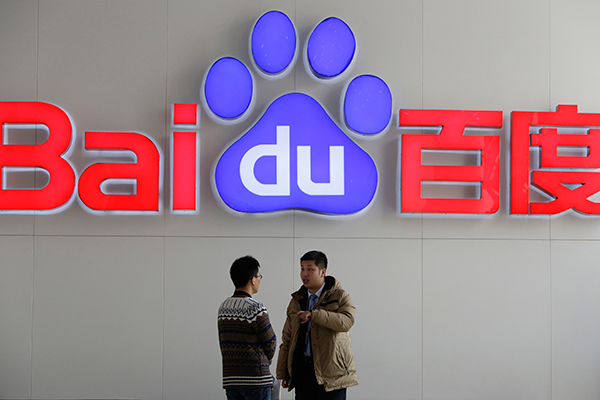 People talk in front of a Baidu's company logo at Baidu's headquarters in Beijing, January 16, 2014. [Photo/Agencies]
Chinese Internet giant Baidu Inc announced its "DU+ Plan" of supporting domestic mobile Internet developers to make profits overseas, vowing to push Chinese developers to a higher level and expand overseas, said Hu Yong, general manager of Baidu's international product department on Tuesday in Beijing.
"There are three stages for domestic developers to go through to achieve success overseas: breaking into, standing steady and growing big," Hu said at the DU Ad Platform (DAP) developer conference named "Making the breakthrough".
According to Tang Cailin, deputy director of Baidu's international product department, Chinese mobile internet developers who seek to enter overseas markets have sprung up and grown rapidly since 2014.
"The number of non-gaming Apps developed by domestic developers on Google Play Top 100 of Non-gaming Apps has exceeded America's, increasing from 26 percent in 2014 to 36 percent in 2015," said Tang. "And the proportion of domestic developers also ranks first among Google Play Top 100, rising from 25 percent in 2014 to 29 percent in 2015. "
The most effective overseas business model of making profits is mobile ads, Tang added. "Since we started entering overseas markets at the end of 2012, to achieve commercial realization, we have tried paid downloads and in-app purchases, however both of which just could not work," he said. "Then after being inspired by Facebook's native ads, we successively adopted mobile ads to help both of our own products and mobile ad platform achieve significant increases in income"
He said that DAP will use strategies like peak value optimization algorithm, real-time integration of quality channels and accurate delivery to ensure developers achieve commercial realization. "Just like the other developers who are willing to expand overseas, Baidu is also a player in the market. Instead of squeezing interest from others, we want to make the market bigger and more prosperous," he said.
Currently, DAP serves more than 300 million active users from over 230 countries. And with more than 600 developers accessing it, DAP receives 1.5 billion daily requests for ads, with the peak request rate being 100,000 requests per second.