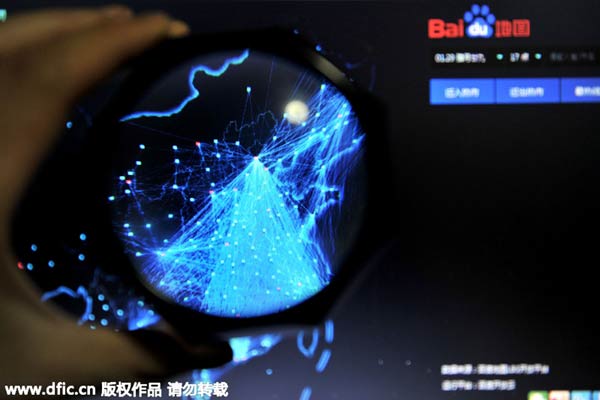 A Chinese netizen browses the website of Baidu Migrate, an interactive heat map that offers a nifty visualization of travel during the countrys 40-day spring festival travel rush, created by Baidu in Shanghai, January 29, 2014. [Photo/IC]
Search engine giant Baidu Inc is expanding its mapping services beyond China, a move to tap into growing demand from Chinese tourists traveling overseas.
The Beijing-based company announced on Tuesday that it is going to provide its mapping service in more than 150 countries and regions across the world by the end of 2016.
Baidu Map, which has its mapping service in 18 countries and regions in the Asia Pacific area, said luring Chinese outbound travelers away from using Google Inc's mapping function is only its first move in internationalization.
Li Dongmin, the general manager who is in charge of Baidu Map, said that his team will gradually offer mapping services in local languages in overseas markets in an aim to build up its brand reputation among overseas users.
"The goal is to have 50 percent of Baidu Map's users from overseas by 2020," he said.
According to the latest report from Beijing-based Internet consultants Analysys International, the mobile Baidu Map was the most used mapping application in China, accounting for 70.8 percent of the market, followed by AutoNavi's, with 23.7 percent.