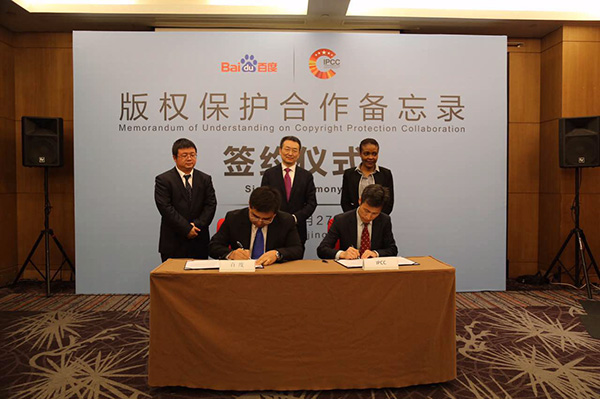 Representatives from Baidu amd the IPCC sign a memorandum of understanding on Copyright Protection Collaboration. [Photo provided to chinadaily.com.cn]
China's biggest internet search engine, Baidu Inc, recently signed a memorandum of understanding (MOU) on Copyright Protection Collaboration with the International Publishers Copyright Coalition (IPCC).
According to a press release of the British Embassy in China, The signing was witnessed by Dr Ros Lynch, Director of Copyright and Enforcement at the UK Intellectual Property Office, who is visiting for UK-China Copyright week.
He says that the co-operation indicates a positive direction for IP enforcement in China, with digital industry getting behind efforts to reduce online infringements.
"The benefits of an efficient and fair global IP system are huge, for both the UK and China. This MOU today represents a great step towards this, creating a collaboration which will lead to faster and streamlined approaches to tackling a global problem," Lynch said.
The creative industries are vitally important for both the UK and China. Creative industries - including publishing, music, film, TV and gaming software - together account for over 5 percent of GDP in both the UK and China, respectively.
Over a third of British publishing industry total revenues (£4.3 billion in 2014) come from digital sales and around 40 percent from exports. This MOU sets out a program of collaboration to tackle the shared issue of online IP infringement.
Emma House, Director of Publisher Relations at the UK Publishers Association, said, "This (MOU) demonstrates Baidu's commitment to working with global rights holders to tackle copyright infringement for mutual benefit."