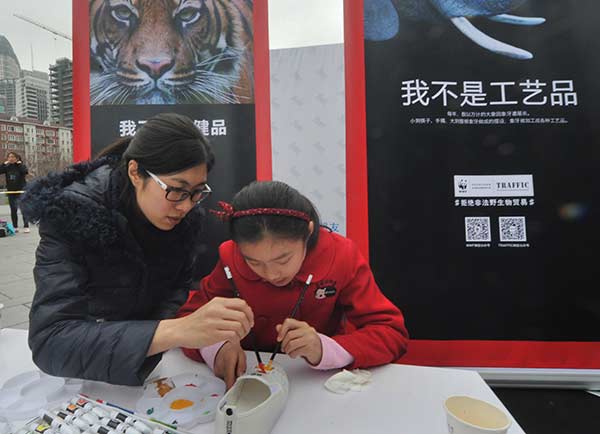 A child attends an Earth Hour activity in Shanghai in March calling for environmental protection. The event was started in 2007 by the WorldWide Fund for Nature, an environmental NGO. [Photo/CHINA DAILY]
China adopted its first-ever law on overseas NGOs on Thursday to facilitate their legal operations on the mainland but to combat any activity that might harm national security.
The 54-point law, passed at the bimonthly session of the top legislature, clarifies the registration process, operational rules and liabilities of overseas NGOs, as well as measures for their operations in China.
The law, which takes effect on Jan 1, requires all overseas NGOs operating in China to be registered and regulated by central or provincial-level police authorities, a stipulation that has caused concern among some NGOs over whether their operations and activities will face restrictions.
"Such worries are totally unnecessary if they follow Chinese laws," said Zhang Yong, deputy director of the Legislative Affairs Commission of the Standing Committee of the National People's Congress. He said overseas NGOs have made a great contribution to China's development.
There is no specific figure on how many overseas NGOs are in China. Chinese media have estimated there are more than 6,000, and most are engaged in environmental protection, education and poverty relief efforts.
The adopted law includes many changes to the previous draft version. For example, the earlier draft required exchanges between Chinese and foreign colleges, hospitals, and science and engineering research institutes, but the adopted version exempts this.
The law also removes the restriction limiting each NGO to a single office on the mainland, but the number and locations must be approved by regulatory authorities.
Guo Linmao, a member of the commission, said the rights of NGOs will be fully protected, but those that break China's laws will be punished accordingly. "A very limited number of overseas NGOs have conducted activities in China that harm our national security or interests," he said.
Behavior that damages China's territorial integrity, regime and people's interests is defined as harming state interests, he said.
The new law gives police the authority to talk with representatives of overseas NGOs and ask them not to conduct such activities, or even blacklist or deport them. If they are found to have broken China's Criminal Law, they are also subject to criminal punishment.