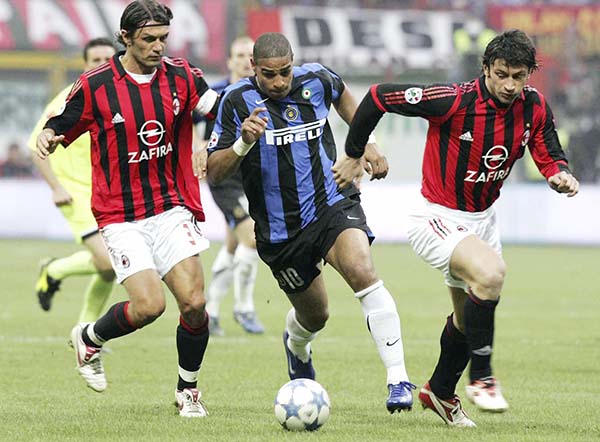 Paolo Maldini and Kakha Kaladze of AC Milan challenge Adriano of Inter during the Serie A match between AC Milan and Inter Milan at the San Siro in Milan, Italy in this April 14, 2006 file photo. AC won the match 1-0. [Photo/VCG]
Two of Italy's top soccer clubs, Inter Milan and its rival AC Milan, said they have been approached by Chinese groups either seeking a stake or offering strategic partnerships.
In what could indicate the latest potential Chinese foray into European soccer, a 12-person delegation from Suning Commerce Group, one of China's largest privately owned retailers, visited Inter Milan last Friday and Saturday. Club chief spokesperson Robert Faulkner said the visiting delegation was headed by chairman of Nanjing-based Suning, Zhang Jindong.
AC Milan, meanwhile, said it had received several expressions of interest in acquiring a stake from some Chinese groups. Former Italian prime minister Silvio Berlusconi is chairman of the club and his company Fininvest is the holding company for AC Milan.
Today Italy's La Repubblica newspaper reported that Alibaba founder Jack Ma is heading up a group which is aiming to buy an initial 70 percent stake in AC Milan, with the option of acquiring the remaining 30 percent over the coming year.
The Chinese billionaire and his associates are prepared to pay 400 million euros ($450 million) for the 70 percent stake, the newspaper said.
Analysts said the recent moves on Milan clubs fit a broader effort by Chinese interests to invest in European soccer.
"As China pursues its sport industry vision and its soccer goals, it is highly likely that we will see more European club acquisitions," said Simon Chadwick, Professor of Sports Enterprise at Salford Business School in Manchester.
Buying a European soccer club is a great way of learning how to run all aspects of the game and can also generate revenue, said Chadwick, adding "at another level, buying a club contributes to a diversified business portfolio, something that aligns with the conglomeration of some Chinese entertainment businesses."
Strong Chinese interest in European soccer stems in part from the ambition heralded by President Xi Jinping to raise the quality of soccer in China, with an eye to winning a World Cup bid and perhaps one day winning the tournament.
The most prominent acquisitions so far are the purchase of a 13 per cent stake in the company that owns Manchester City soccer club, worth $400 million, by China Media Capital and CITIC Capital; and the 20 per cent of shares in Spanish soccer club Atletico Madrid bought by Chinese billionaire Wang Jianlin's Dalian Wanda.
No deal on AC Milan had been finalized, according to the people familiar with the matter at Fininvest, saying "There is still not a well-defined timetable; the dialog is ongoing. The decision to sell or not a share of the club and the definition of the size of this share will be taken by AC Milan's chairman Mr Silvio Berlusconi." 

Inter Milan's Faulkner said the purpose of Suning's visit was to discuss a potential strategic partnership between Inter Milan and Suning Commerce Group, including potential capital investment from Suning and opportunities for the club in China that might be related to the Inter Milan brand.
Different forms of partnerships have been raised, such as soccer and commercial partnerships, said Faulkner, who stressed that no decision was reached at the initial discussions.
As the Chinese group owns Jiangsu Suning soccer club, Faulkner explained, they are also very interested in the Italian club's academy structure and its training centre.
Faulkner said Inter Milan has been in discussion with three or four potential investors, but "the discussions with Suning are probably at the most advanced stage as they came to visit us in Milan."
Chinese interest in Italy's Serie A clubs is inevitable given the country's positive predisposition towards Italian soccer. Italian soccer was among the first leagues screened in China in the 1980s. Italian soccer clubs have in general suffered from underinvestment over the last decade, according to Chadwick.
"One of the key issues in Italy is that the clubs are inexpensive, so they're relatively cheap to buy and the ownership is not regulated in the same way as it is in Germany," said Chadwick, adding that outside investors are currently unable to acquire outright control of a German club because of the so-called '50+1' rule.
"It means that the fans always have a majority share in their club and I think it's an acknowledgment by the German soccer association and by the German government that soccer clubs play a special socio-cultural role," Chadwick added.
Chadwick said one of the reasons that there has not been a significant interest from China in English clubs is because they are too expensive.
"For example, if you were interested in buying Manchester United you'd be looking to pay upwards of £1 billion. Whereas to buy AC Milan, which in global terms is arguably just as powerful as Manchester United, it is going to cost you considerably less," said Chadwick.
Contact reporter at wangmingjie@mail.chinadailyuk.com
Lara Wolfe contributed to this story