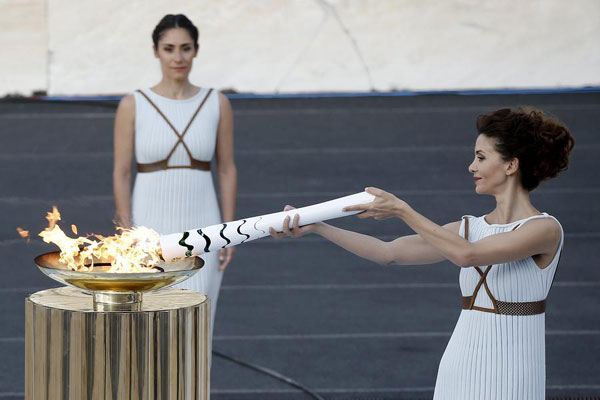 Greek actress Katerina Lehou (R), playing the role of High Priestess, lights an Olympic torch during the handover ceremony of the Olympic Flame to the delegation of the 2016 Rio Olympics, at the Panathenaic Stadium in Athens, Greece, April 27, 2016. [Photo/Agencies]
ATHENS - The Flame burning for this summer's Rio Olympic Games was handed over to the Brazilian organizers in a spectacular ceremony held at Panathinaic Stadium in Athens on Wednesday.
At the marble venue of the first modern Olympics in 1896, Hellenic Olympic Committee President Spyros Capralos passed the Sacred Flame to the President of the Rio 2016 Organizing Committee Carlos Nuzman, wishing best success to the XXXI Games.
Nuzman left the stadium with the Sacred Light under the warm applause of some 30,000 Greeks and foreign tourists who had flooded the site.
Greek President Prokopis Pavlopoulos, international Olympic movement representatives, and Olympic medalists were also among the crowd that welcomed warmly the Olympic Flame when it entered the stadium.
The Sacred Light was carried by the Greek silver medalist in high jumping in the 1996 Atlanta Games Niki Bakogiannis, after having crossed a large part of Greece (about 2,200 kilometers) over the past week.
It was one of the highlights of the traditional handover ceremony which opened with the children's choir of the National Olympic Academy of Greece supported by the Philharmonic Band of the City of Athens singing the Olympic, Greek and Brazilian national anthems.
Silver world rowing champion in 2014 and 2015 Katerina Nikolaidou who will compete in the Rio Games in August was the last torchbearer to carry the flame inside the stadium.
It was the end of the first leg of the Torch Relay on Greek soil, which had started on April 21 at ancient Olympia when the Sacred Light was ignited by the sun's rays during a ritual ceremony at the birthplace of the Olympics.
After Nikolaidou lit the cauldron inside the stadium, dozens of Greek actors and dancers playing the roles of Ancient Greek goddesses, priestesses and young men performed an emotional choreography signed by artistic director Artemis Ignatiou that was inspired by Greek mythology and depictions on ancient Greek urns, murals and statues.