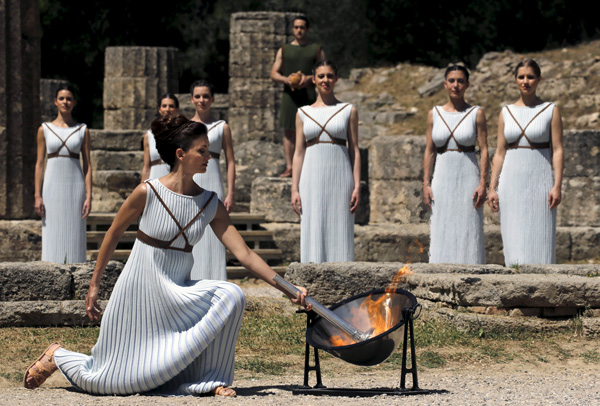 Greek actress Katerina Lehou, playing the role of High Priestess, lights a torch from the sun's rays reflected in a parabolic mirror during the dress rehearsal for the Olympic flame lighting ceremony for the Rio 2016 Olympic Games at the site of ancient Olympia in Greece, April 20, 2016. [Photo/Agencies]
ANCIENT OLYMPIA, Greece - The lighting ceremony of the Olympic flame is to be held in Ancient Olympia organized by the Hellenic Olympic Committee since 1936 for the Berlin Olympic Games.
The ritual starts with a procession of 30 priestesses towards the Temple of Hera, a goddess in Ancient Greek mythology.
In front of the ruins of the ancient temple, the High Priestess lights the torch by the means of a concave mirror using the sun's rays, calling the God of Sun Apollo to light the sacred flame.
"Apollo, king of the sun and the idea of light, send your rays and light the sacred torch," she prays.
The procession then moves into the stadium after a young boy cuts off a branch of olive tree called "kotinos" as a symbol of honor and victory.
On a hill around the stadium, a dozen priestesses and a dozen male dancers perform a choreography inspired by ancient Greece sculptures.
This year, the first part of the dance performance is entitled Kouroi and Korai (male youths and maidens) and the second Nereides after the goddesses of the sea who according to ancient Greek mythology were controlling the winds dancing with dolphins.
After the flame is transferred in a replica of an urn inside the stadium, the High Priestess lights the torch and passes the flame to the first torchbearer, the world champion in gymnastics, Lefteris Petrounias.
He will start the torch relay in the stadium by handing the flame over to Giovane Gavio, volleyball Olympic champion, representing Brazil.
The ritual is held under the rhythm of the flute, percussion sounds, bagpipes and the ancient lyre composed by musician Yannis Psimadas.
He will be playing the lyre and percussion instruments accompanied by Dimitris Barkos in bagpipe and gaida and Konstantina Ventouri-Roussou in flute.